Time Inc. to Unleash All 21 Magazines in Portfolio to a Digital News Stand Near You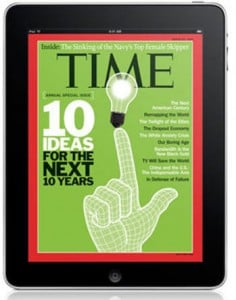 Time Inc. has affirmed its commitment to embrace the digital age by announcing that the publisher will release all 21 magazine titles in its portfolio to a digital news stand near you. Of course, there are some caveats there–news stands refer to the leading tablet platforms, which at this time for Time Inc. means those slates running on iOS, Android, and webOS. Notably absent is support for Windows tablets, MeeGo, Windows Phone 7 smartphones, and also Research in Motion's BlackBerry Tablet OS powered by QNX.
However, despite a favored approach to those successful tablet platforms on the market today, Time Inc. does have a lofty goal of bringing a total of 21 magazines to you. Currently, only Sports Illustrated, a Time Inc. publication, is found on multiple platforms while publications like Time, People, and InStyle are iPad-only.
In addition to making the latter three publications available on multiple platforms, Time Inc. will also be bringing digital editions of All You, Coastal Living, Cooking Light, Entertainment Weekly, Essence, Fortune, Golf, Health, Money, People en Espagnol, People Style Watch, Real Simple, Southern Living, Sports Illustrated for Kids, This Old House, and Time for Kids.
According to the publisher, the digital edition will not be just a simple scan of the pages of the print edition. Rather, Time Inc. says that it will release apps designed specifically for each platform. Hopefully, this will incorporate more interactive features, videos, photos, extended information, and more value-added features for readers.
With varying screen sizes and features in different tablets, publishing a magazine on multiple platforms will have its challenges. Hopefully, Time Inc. can pull this off every month for all of its 21 publications.
Via: Mashable

As an Amazon Associate I earn from qualifying purchases.