Tinder Super Like: 5 Things to Know About the Super Like
The Tinder Super Like makes it three times as likely to get a match, and help you have longer conversation on Tinder according to company data. This is what you need to know about the Tinder Super Like and how it can help you get more matches on Tinder.
What is a Tinder Super Like? It's basically a Right Swipe on steroids that can result in better matches, more visibility and hopefully more Tinder connections for you.
Here's what you need to know about the Super Like Option on Tinder, how it works and how it connects to Tinder Gold and Tinder Plus.
What is a Tinder Super Like?
Tinder was a two-dimensional world of left swipes and right swipes, one bringing you closer and the other sending potential matches to the left never to be seen again.
With the Tinder Super Like option you can now swipe up on a user to deliver a Super Like.
If someone you super liked swipes right on your profile it is an immediate match, which ups your chances at a connection. There is no fee to Super Like on Tinder, but there is a limit to how many Super Likes you can do a day.
Why Should I Super Like on Tinder?
This is the digital equivalent of a "like you, like you" note and according to the early stats it will help you get more matches and more conversations.
How to Super Like on Tinder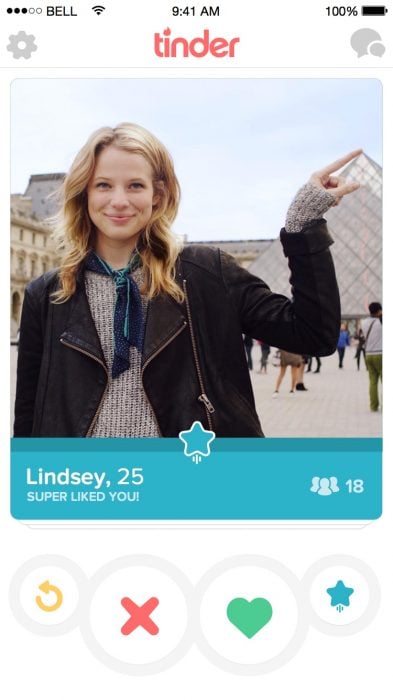 You can start using the Tinder Super Like today, but use it wisely since you only get one a day.
When looking at a user, you can now swipe up to Super Like the user on Tinder. If you are looking at a Tinder profile you can tap the blue star to Super Like them.
You cannot save Super Likes, so there is no reason to try to save them up for days and go on a Super Like spree.
When someone you Super Like is looking at your photo they will see a blue bar, a star and a message that you Super Liked them.
You can download Tinder for iPhone or Android.
How Many Super Likes Do I Get?
Normal Tinder users can use one Super Like a day. This resets each night, so you can Super Like fairly regularly.
If you are a Tinder Plus or Tinder Gold user you get five Super Likes each day.
How to Get More Super Likes
Tinder Plus starts at $9.99 a month in the U.S. and Tinder Gold is 14.99 a month. These both include a slew of upgrades including;
Unlimited likes
Rewind Last swipe
5 Super Likes per day
1 Boost each month
Passport to change your location.
With Tinder Gold you also get to see who likes you. You can save on some of these with bigger subscription plans.