Ting Brings No-Contract Mobile, Shared Data to Sprint's Network
Tucows has launched a new carrier in the United States today, called Ting, which will bring cheap, no-contract data mobile data plans to Sprint's network.  What this means is that should you not want to sign a contract with another service provider here in the U.S., and you think your areas is covered by Sprint's network, you should be able to snag a device, contract-free, through Ting.
What makes Ting so appealing is that it not only does not require you to sign a contract when selecting a device, it also has extremely friendly billing practices.
So, you're probably wondering. How does all of this break down exactly?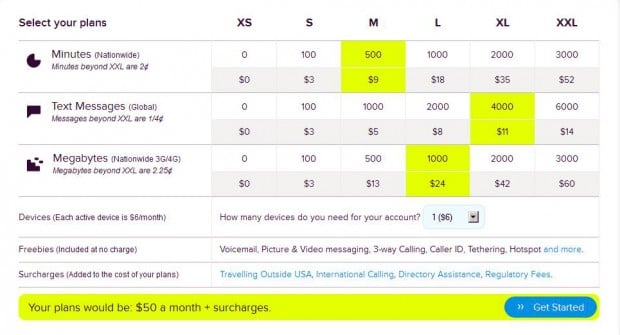 Take a look:
Ting has a very different approach to pricing than the major providers. Minutes, messages and megabytes are each billed separately. If customers use less of any than they anticipated, they are credited at the end of the month. If they use more, they are simply billed the appropriate additional amount, without onerous penalties or premiums. Businesses and families can pool an unlimited number of phones and data devices on one Ting account, offering even greater savings over other providers' more limited sharing options.
That pooling data together bit is extremely intriguing.
The carrier also provides a ton of different tiers, something that isn't found at most of the big name U.S. carriers. AT&T and Verizon both have big jumps in data allotment.
At Ting, you can snag 500 minutes for $9 a month or you can get 2000 for $35 a month if you so choose. It also offers 100, 1000, and 3000 minutes for different prices.
Text messaging is dirt cheap too.
Data isn't as cheap but it's still affordable. $24 will get you 1GB of data, $42 will get you 2GB, and $60 will get you $3000.
As for the device selection, you're only going to have a grand total of eight devices to choose from including the Motorola Photon, the HTC Detail and the Samsung Conquer. And because they are all going to be bought off-contract, you're going to have to shell out some dough.
The Photon for example costs $545.
So, Ting is a nice alternative for those that don't like signing contracts, want cheap minutes and texting and can deal with a limited selection and somewhat expensive data.
You can find out more if you head here.

As an Amazon Associate I earn from qualifying purchases.