To Skirt Apple's Latest Suit Against Samsung, Google Patents New Unlock Method for Smartphones
Apple's latest battle, to continue Steve Jobs' declaration of thermonuclear war, against Android, Apple's latest lawsuit against Samsung Mobile in German court centers around the method to unlock a touchscreen phone that centers around Apple's patent on slide to unlock among others. As Google hopes to protect and defend its Android ecosystem, it is now creating a method to unlock a touchscreen smartphone that hopefully the patent offices will find different enough from Apple to implement in future versions of Android smartphones. In doing so, Google is hoping that Android phones made and manufactured by its hardware partners–including LG Mobile, HTC, Motorola Mobility, Huawei, ZTE, Samsung, and others–won't face an import or export ban as part of Apple's injunction request.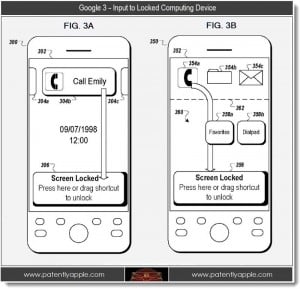 Google's latest patent is filed as "Input to Locked Computing Device," and Google's methods to unlock look similar to HTC's Sense 3.0 lock screen that debuted on devices like the HTC Sensation–sold as the Sensation 4G in the U.S. under carrier T-Mobile–and the HTC EVO 3D–sold in the U.S. through Sprint. Users can quickly drag shortcuts, such as email, web browser, SMS, to apps to a an area below to unlock and jump directly to those apps. Additionally, there appears to be a quick way to access the dial pad to make calls.
The image used in Google's patent application also looks similar to the T-Mobile HTC G1, which was the first device to debut the Android operating system. The HTC G1 was sold internationally as the HTC Dream.
Additionally, it looks like Google will also be placing more emphasis in speech as part of its unlock patent as well, as speech search and speech search results could also be delivered to the lock screen.
Another possibility is that rather than having to input a password using the virtual keyboard, or the software input panel (SIP), Google will also allow users to speak their passwords as well.
Thus far, Google has not gotten involved in patent lawsuits and litigation and Apple has not gone directly after Google. Instead, Apple has gone after Android manufacturers, such as Samsung, Motorola, and HTC. Apple and Android manufacturers are waging multiple wars in multiple regions around the world, and there is speculation that the bad blood between the iOS-maker and Android is because Apple feels that Android stole ideas and innovations that iOS started with.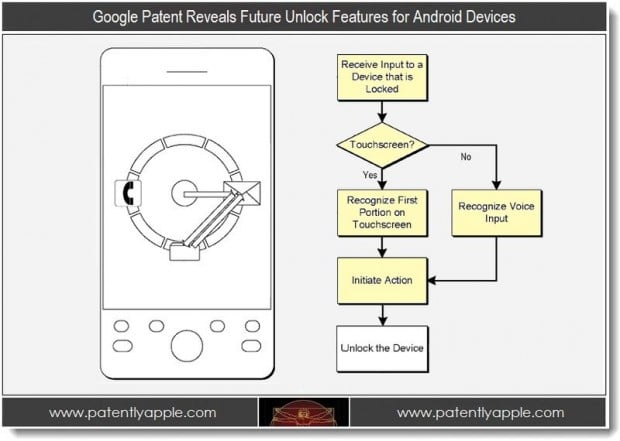 Google is in the midst of acquiring Motorola Mobility. Though there is concern that Motorola Mobility may receive favoritism as an in-house hardware house under Google's own brand, Google had defended its acquisition as an effort to shore up Android patents for cases like battling lawsuits with Apple.
Via: Patently Apple

As an Amazon Associate I earn from qualifying purchases.