Top 5 Smartphones to Consider Before Buying Samsung Galaxy S5 [May, 2014]
With the Samsung Galaxy S5 now on shelves, many people are thinking about making the new Galaxy S their new smartphone. Before buying it, there are some devices that we think smartphone shoppers definitely need to weigh against the Samsung Galaxy S5 before making the final commitment.
At the tail end of last year, we started hearing a whole lot about the Samsung Galaxy S5, Samsung's supposed successor to the Galaxy S4. Rumors were all over the place in 2013 though by the time 2014 rolled around, they had tightened up to the point that we felt we had a good read on Samsung's plans.
Rumors said that Samsung would release two versions of the Galaxy S5, one premium and one middle of the road, and that they would arrive to compete with the iPhone 5s and iPhone 5c and the many other smartphones that dot the landscape. As it turns out, Samsung did have a Galaxy S5 up its sleeve but it only had one version.
The Samsung Galaxy S5 that arrived in February, and hit shelves in April, is a fine smartphone. Despite not featuring a metal design or offering a QHD display, we and many others still consider it to be one of the best smartphone options available to consumers during the month of May. It's a really good smartphone. It's a device that we think should reside near the top of most, if not all, smartphone shopping lists.
Friends, family and readers who are interested in the Samsung Galaxy S5 continually ask about the other devices that they should be looking at. The question typically sounds something like "Well, if I were to want something other than the Samsung Galaxy S5, what should I be looking at?" It's a valid question.
In an effort to steer as many people as we can in the right direction, we want to take a look at the five devices that we think need to be heavily considered before buying the Samsung Galaxy S5.
Keep in mind, our list may differ from yours but these are the devices that Gotta Be Mobile editors have selected for recognition this month. We feel like they deliver the best, all-around package at the moment. This list will change from month to month as rumored devices get closer to announcement and announced devices get released.
Samsung Galaxy Note 3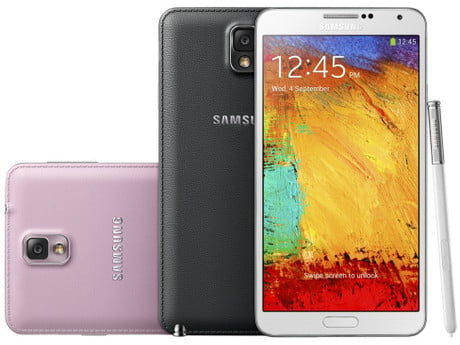 These Samsung Galaxy S5 competitors are not listed in any particular order but had we ranked them, the Samsung Galaxy Note 3 would certainly be close to the top.
Samsung's Galaxy Note 3 is the company's other flagship smartphone. It was released back in September, five months after the arrival of the Galaxy S4. As we've noted, there are a number of reasons to consider the Galaxy Note 3 over the Galaxy S5. For one, it comes with an extremely useful stylus called the S Pen.
It also offers insane battery life and a massive display that is perfect for gaming, multitasking and getting work done on the go. The Galaxy Note 3 is built for the road warrior in mind.
The Galaxy Note 3 is an extremely powerful smartphone and it's a device that potential Galaxy S5 buyers would be wise to rule out before shelling out the cash for a Samsung Galaxy S5.

This article may contain affiliate links. Click here for more details.