Top 7 Tablets to Consider Before Buying the Kindle Fire HDX [July, 2014]
Amazon's Kindle Fire HDX is approaching the one year mark but thanks to solid hardware, software and a fantastic price, the device remains one of the top options to those looking for a portable slate. That said, we think there are seven tablets that consumers must take a look at before taking the plunge with the 7-inch or 8.9-inch Amazon Kindle Fire HDX.
Last year, just a few weeks after Google updated its own 7-inch Nexus 7, Amazon announced updates to its Kindle Fire tablet lineup. The updates came in the form of the 8.9-inch Kindle Fire HDX and 7-inch Kindle Fire HDX. The devices, competitors for the Nexus 7 and iPad mini, were put at affordable price points. However, these aren't the budget tablets that you see at your local pharmacy.
The Kindle Fire HDX tablets use Android as a software base but they aren't considered Android tablets. Instead of Android 4.4 KitKat they run a heavily modified version of Android that looks nothing like the Android software you see on most smartphones and tablets. The Kindle Fire HDX's software is heavily tied into Amazon's many services which provide easy access to content like music, applications, books, movies and television shows.
That software pairs with two gorgeous displays, solid cameras, great battery life, and a durable design that doesn't feel cheap like many of the Android tablets that populate the market. These characteristics have ensured long healthy lives for the Kindle Fire HDX, so healthy in fact, that we're still getting questions about them.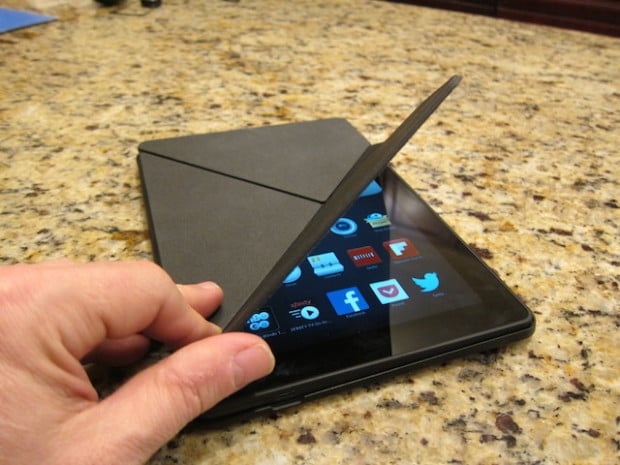 We are constantly bombarded with questions about which tablets to buy. In particular, we're constantly asked about the tablets consumers should weigh against the Kindle Fire HDX 7-inch and 8.9-inch. There are a number of different devices that we could recommend, the smartphone market is full of solid choices, but we want to narrow things down a bit and take a look at what we consider to be the top five.
These tablets represent the slates that we'd recommend to friends and family. And while our list may differ from yours, these are the devices that Gotta Be Mobile editors have selected for recognition this month. We feel like the tablets listed here deliver the best, all-around package for this month and this month alone.
That said, here are the top seven tablets to consider before buying the Kindle Fire HDX.
iPad mini with Retina Display
The first tablet you should take a look at before buying the Kindle HDX is Apple's iPad mini with Retina Display. Sure, it's more expensive, but that's the price you're going to have to be willing to pay to get into Apple's ecosystem.
The iPad mini with Retina Display's Retina Display means that you're going to get great looking content. The 64-bit A7 processor that's on board will help to provide smoother games and mulitasking. It also comes with a fantastic metal design, solid camera, and of course, iOS 7.
Apple's 7.9-inch slate is going to resonate with those looking at the 7-inch Kindle Fire HDX but those that are interested in the 8.9-inch Kindle Fire will also want to take a look at it before buying. It's that good.

This article may contain affiliate links. Click here for more details.