Top Movies Rentals Now 99 Cents on the Android Market
In celebration of the holiday season and really, to help make the lives of traveling across the country or globe easier , Google has dropped the price of renting its top movies on the Android Market to just $.99.
This is much better then the usual asking price of $2.99. The deal won't last forever though. It's only going to be going on for the next two weeks.
Now, the selection here isn't the greatest, there are only 12 movies, but we're sure that you'll have no problem picking out something to watch on your Android device.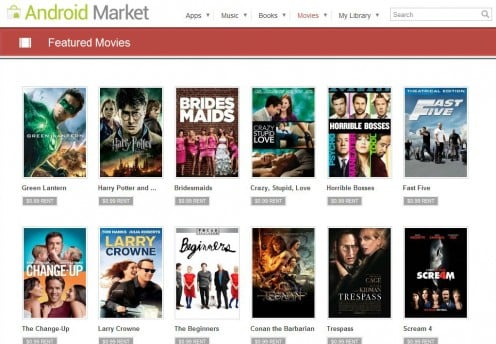 Here is the full list of movies:
Green Latern
Harry Potter and the Deathly Hallows – Part 2
Bridesmaids
Crazy, Stupid, Love
Horrible Bosses
Fast Five
The Change-Up
Larry Crowne
The Beginners
Conan The Barbarian
Trespass
Scream 4
Bridesmaids is highly recommended.
To take advantage of Google's offer, you'll want to head here on a supported device.

This article may contain affiliate links. Click here for more details.