Gift Guide: Best Quirky Mobile Tech Accessories
Quirky is one of my favorite websites to shop because the products there are so spot-on useful. That's probably because everything is conceived and designed by real people who have great ideas but not the infrastructure to turn that idea into reality on their own.
Of all the Quirky products I own or have tested and reviewed, here are my top 6 picks. They should make great stocking stuffers. Though they don't cost a lot of money, these products will prove you a thoughtful and fun giver.
And don't forget to check out our other 2011 tech and gadget gift guides for more ideas, especially if you have a specific budget.
Converge Charging Dock
I'm fond of this versatile charging dock because of the clever cord management system that not only artful hides them, but limits tangling. There are 4 USB ports hidden in the back and it's easy to fill those up when you have a slew of small gadgets. The Converge is big enough to hold a tablet and a phone side by side. Great for people who use their phone as an alarm clock and people who need a tablet stand for watching movies.

Digits
Winter is in full swing and the perennial issue of how to use your capacitive screen devices while wearing gloves is upon us again. Instead of having to whip out a stylus every time or buying expensive gloves, scoop up digits. These little pads will work with most existing knit gloves. Just attach them to the fingers you need to use and type away on your phone or tablet.

Contort USB Hub
This 4-port hub has two features going for it. First, the bit that connects to your computer's port has a flexible bit at the base so it won't get bent out of shape if you accidentally knock it. Plus it allows the hub to fit in awkward spaces if need be. Second, it includes a sweet cord management system so that you won't have to deal with messy cords all over the place. Plus it's small, light, and compact.

Cordies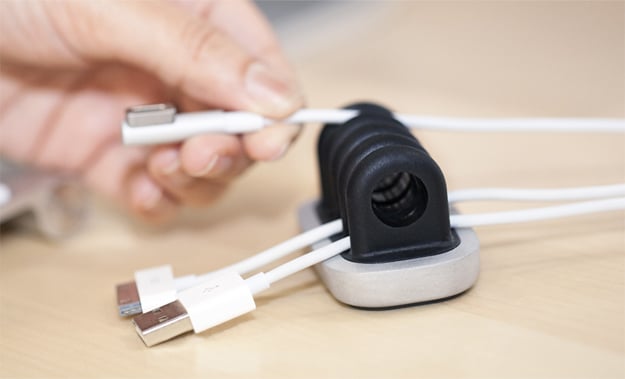 Keep your cables from sliding off the table when you unplug your devices and peripherals with Cordies. Available in Metal or plastic, this little utility sits on the desk and holds cords within reach.
$14.99 (metal) & $9.99 (plastic) @ Quirky

Wrapster
I like the convenience of small earbuds as opposed to big cans for headphones. But even the non-tangle cords can get a little tangled. Plus, you need an easy and fast way to store them so they don't get mashed up and possibly damaged in your bag. The Wrapster is the answer to this. Bonus: you can use it to prop up your phone as well.

PowerCurl
This one has been around for a while, but it's still one of the best accessories for MacBooks I've ever come across. If the Mac-lover in your life doesn't have one of these and carries their laptop and power cords with them a lot, this is a great gift. The PowerCurl will nicely wrap up both the thick and thin cords on the MacBook's adapter, keeping them tucked away and tangle free. The center bit snugly fits either the old or new adapter styles (you have to choose which you want when you order) so even when the cords are unwrapped and plugged in it will stay in. Plus it lifts the brick off the ground  bit to help with airflow when they get hot. It's made of pliable, light rubber that won't weigh you down if added to your bag.


As an Amazon Associate I earn from qualifying purchases.