Toshiba Announces 3 New Excite Android Slates for U.S.
Toshiba's first foray into the Android tablet market was met with some criticism despite packing a lot of ports and power that made the Toshiba Thrive tablet a standout among competitors. The device was bulky and users wanted thin and light. Toshiba has listened and is now unveiling three new Android tablets under the new Excite franchise that will be arriving by the middle of this year. With three new screen sizes to choose from–13, 7.7, or 10 inches–Toshiba is broadening its nets to lure in a wide audience with a sleek, thin design.
The Toshiba Excite 13 was displayed at the Consumer Electronics Show this year and features a 13-inch Gorilla Glass screen with a quad-core NVIDIA Tegra 3 processor. The device will be powered by Android 4.0 Ice Cream Sandwich and will weigh in at a hefty 2.2 pounds with a 0.4-inch thick profile. The 13-inch display rivals some smaller notebooks and larger ultraportables such as the MacBook Pro 13 or the 13-inch MacBook Air. With a resolution of 1600 X 900, Toshiba says that this device is more geared towards entertainment and movie watching, perhaps as a portable entertainment hub around the house.
The 13-inch Excite slate features micro HDMI, micro USB, and a full USB port. The device has a 13-hour battery life and will debut on June 10 starting at $649 for 16 GB or $749 for 32 GB.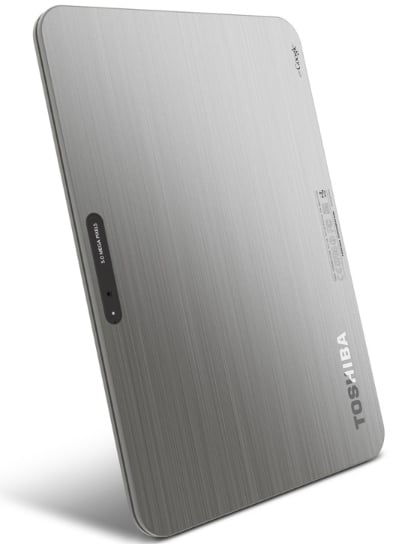 The Excite 7.7 has a 7.7-inch AMOLED display and will most likely compete in the same segment as the Samsung Galaxy Tab 7.7, which has a Super AMOLED Plus display. The device measures in at 0.3 inches thick and weighs 13.4 ounces. The Excite 7.7 has a quad-core Tegra 3 CPU and the same array of ports as the 13-inch model. The device will debut on June 10 starting at $499 for the 16 GB edition or $579 for the 32 GB model.
And finally, the Excite 10 has a 10-inch display and will go on sale on May 6 for $449 for the 16 GB edition or $529 for the 32 GB model.