Toshiba Excite 10 LE Unboxing and First Impressions
Earlier this month Toshiba's newest Android tablet, the Excite 10 LE, launched to some… mixed reviews. Most cited issues with Honeycomb as the biggest drawback. The fact that it launched with Honeycomb and not Ice Cream Sandwich angered others.
This week Toshiba rectified that issue by pushing an Android 4.0 OTA update to the tablet. And on the heels of that we just got in our Excite 10 LE review unit.
The Ice Cream Sandwich-fied device comes in suitably attractive yet minimalist packaging, as you see here.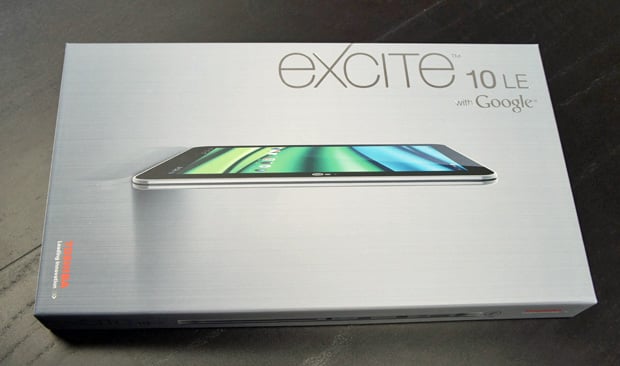 What's inside the little box that says excite?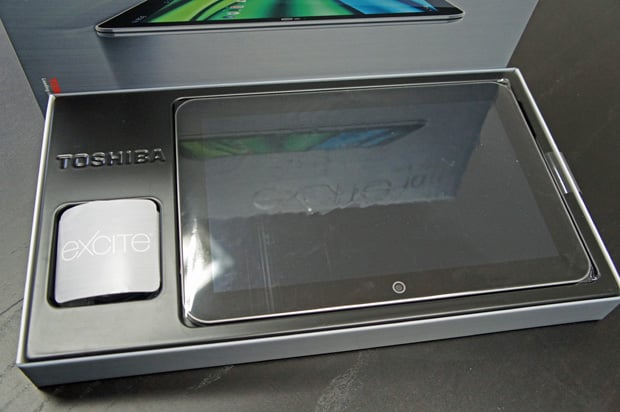 A USB wall adapter. Okay, not so exciting.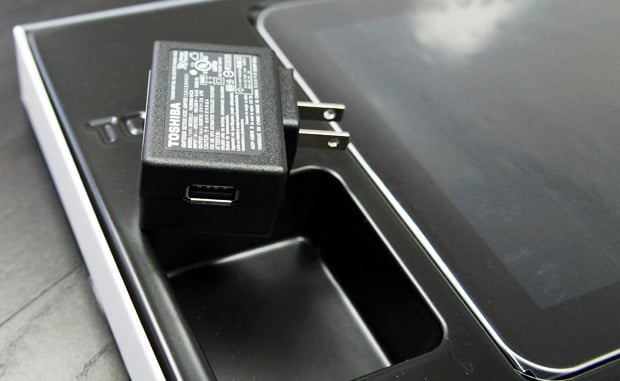 The tablet doesn't come with much, just the adapter and the USB cord with a proprietary 30-pin connector for charging.
This might make you groan and I might even join with you except that the Excite 10 LE also has a microUSB port for both connection to a computer and charging. So if you lose the Toshiba one, you can use the more universal cord you most likely have hanging around the house.

Speaking of ports, aside from the USB there's also a micro HDMI port and a microSD card slot. They all sit along the right side next to the headphone jack.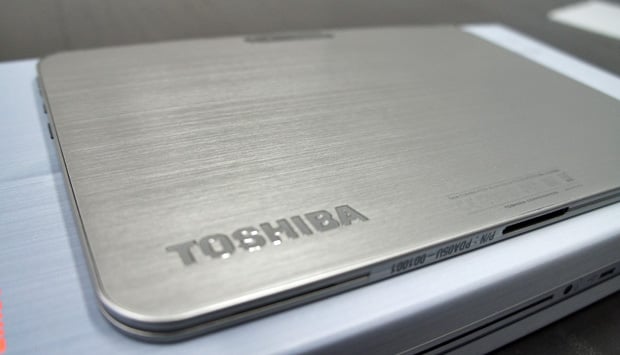 Seeing that this is the thinnest Android tablet out there, it's interesting that Toshiba hasn't abandoned the idea of including several ports. Even the new Samsung Galaxy Tab 2 series doesn't have a micro USB and a proprietary port, you only get the latter.
The power button, volume rocker and orientation lock sit on the upper left edge. The front and rear cameras both sit at the center of the tablet on their respective sides.
Fans of stock/pure Android will appreciate that Toshiba doesn't bother with any skins or other modifications. With the exception of some pre-loaded apps, they deliver ICS the way Google designed it.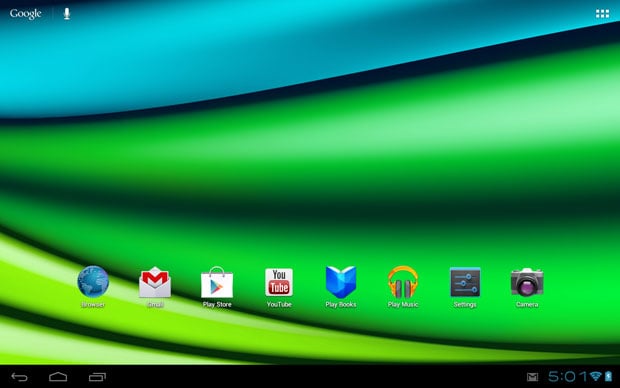 Though there are a few apps and widgets on the Home screens, the Excite arrives a fairly blank slate. For people who know their way around Android, this is probably a welcome change.
I haven't encountered any of the performance issues reported with the Honeycomb versions, though at this point I've only had the tablet for a few hours. I've watched video, played games and surfed the web. So far my only issue is that the screen gets smudged up fast.
I'm a fan of the light weight, the flat edges and the brushed metal look on the back. We'll see if the Excite 10 LE continues to be as easy to hold as it is on the eyes.
What do you want to know about the Toshiba Excite 10 LE Android tablet?

As an Amazon Associate I earn from qualifying purchases.