The Toshiba Excite 13 is the largest Android tablet to date, bringing a whopping 13-inch display to a category ruled by 7-inch and 10-inch tablets.
This is not a tablet that turns into an Ultrabook, but a large 13-inch slate running Android Ice Cream Sandwich.
With a majority of tablets used only at home, the Toshiba Excite 13 may tempt home dwelling tablet users looking for a large screen for recipes in the kitchen or for watching movies and surfing the web in bed.
The Toshiba Excite 13 has a quad-core NVIDIA Tegra 3 processor, Android 4.0 and a 13-inch display with support for 10-finger multi-touch.
Is the super-high 1600 x 900 resolution and thin body enough to compete with the iPad and worth the added size?
Pros

Large, high-resolution display.
Great battery life.
Excellent performance.
Good collection of ports, including full size SD card.

Cons

Unwieldy to take outside.
Dimmer than average display.
Android tablet apps.

Toshiba Excite 13 | $649

Toshiba Excite 13 Review Guide

Related Toshiba Excite 13 Review Articles

Related Toshiba Excite Reviews

Buy the Toshiba Excite 13
Design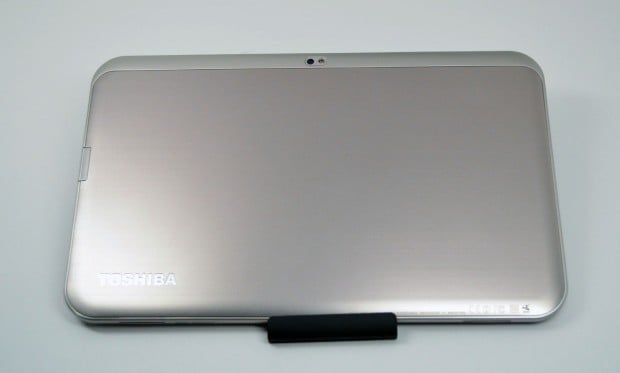 Toshiba's industrial design team did an amazing job on the Toshiba Excite 13, matching the iPad in look and feel.
The rear of the device is a two-tone textured metal, with a smooth lighter color along the top of the display. The front of the device features a dominating display and respectably sized bezel.
The Excite 13 weighs in at 2.2 pounds, almost as much as Toshiba's Ultrabook, and it is wider than a MacBook Air at 13.5-inches wide. The tablet is only .4 inches thick, slightly thicker than the iPad 3rd generation.
You definitely don't want to use this tablet while standing for more than a few minutes, but that's alright. Toshiba Includes a stand that holds the Excite 13 upright or at an angle suitable for typing.
Not everyone will love the placement of the front facing camera, centered while in landscape, but I found the tablet easiest to use while held with two hands in landscape mode.
I'm grateful for the orientation lock switch and good overall button placement, a simple task many Android tablets are unable to master. The power supply is as large as one for an Ultrabook, so it's a good thing the battery lasts through a full day.
Toshiba Excite 13 Display
As the largest consumer Android tablet available, the display is an important part of the Toshiba Excite 13.
The display resolution is higher than most laptops and the display is very responsive to touch, even with 8 or more fingers on screen.
The Toshiba Excite 13's large display is capable of 10-finger multi-touch for apps that require multiple touch points, such as piano apps or kids drawing apps and games.
The large display is best suited for movies and games. I watched Contraband from the Google Play store and enjoyed the larger widescreen display as well as the picture quality. I found I needed to move the tablet farther away than the iPad to avoid panning around the display. The display is great for sharing content with others.
The large display left plenty of room for action in Grand Theft Auto III, even with on-screen controls. Other apps, designed for phones stretched to obscene aspects. Simply put, there is a lack of Android tablet apps, and a more noticeable lack of Android tablet apps for a 13.3-inch – 1600 x 900 resolution display.
I found the large display great to use the Excite 13 as a second monitor, as well as for productivity and typing, but the inability to place two Android browser windows side by side while using a bluetooth keyboard hampered multitasking.
I would prefer a brighter display, especially in a classroom with bright lighting, but ultimately it is bright enough for most indoor settings around home.
Performance
The NVIDIA Tegra 3 processor and NVIDIA graphics don't disappoint. The Excite 13 is well equipped to handle demanding games like Grand Theft Auto III as well as the fast and frenzied swiping of Fruit Ninja.
The Tegra 3 processor delivers access to the Tegra Zone or THD games which deliver more controller support and better looking graphics than the standard Android games.
ShadowGun THD, a Tegra specific version of the popular tablet shooter looked great on the Excite 13, though the aiming controls required a bit of a stretch to reach. Gameplay was good, with a few dropped frames here and there, but overall the Excite 13 has the power to deliver great looking immersive gaming. So long as you can find the games you want.
I can't wait to try Dead Trigger on the Excite 13. Check out the video below for a look at how gaming on a Tegra 3 tablet compares to the basic Android tablet.
Onlive for Android worked well, even though the table is not officially supported. The controller worked perfectly in Batman Arkham City, which looked great on the large display, but the controls fell apart in most racing games.
Basic performance of the tablet is good with very few hiccups or slowdowns while switching apps and navigating the device. Much of this comes to with the improved Android 4.0 operating system.
Battery Life
Toshiba rates the Excite 13 tablet for 13 hours of battery life and seven days of standby. Battery life varies based on-screen brightness and usage, but battery life is impressive.
After surfing the web with the brightness set at 40%, the Excite 13 still had 53% battery life left after 4 hours. The Balanced Power mode helps the tablet keep going even with moderate use.
I don't see the Toshiba Excite 13 hitting the 13 hour mark under constant web browsing or gaming, but I've had no problem getting through a day with this tablet, despite the large display.
Audio
The Excite 13 has two downward facing speakers and SRS audio enhancements, but you'll need a good pair of headphones or external speakers to enjoy music on the tablet. The size makes it a perfect pair for the Plantronics BackBeat Go Bluetooth stereo headphones.
Cameras
The Toshiba Excite 13's rear facing 5MP camera proved better han expected thanks to a semi-fast shutter, but it lacks the detail needed to deliver a great photo. That's probably for the best, as you won't want to take it outside for photographs. Trust me, you'll earn more weird looks than when using the iPad to take photos.
The front facing 2MP camera isn't great, but is suitable for video chatting in Google+ Hangouts or Skype.
The rear facing camera is capable of 720P video, which looks good, but colors are not vibrant and some aspects were not sharp. Use your smartphone instead. During this short test I received a handful of odd looks and at least two people laughed at the spectacle.
Software and Apps
Toshiba delivers a fairly straightforward version of Android 4.0 Ice Cream Sandwich, complete with a collection of nice pre-installed apps. Android runs well on the Excite 13.
The haptic feedback when tapping the display and playing games can get annoying, but thankfully it is easy to turn off or customize in the settings.
The best pre-installed app is LogMeIn, normally a $30 app, which lets you log in to your computer remotely. Users will also find card and board games as well Toshiba's Book Place.
I routinely pair a Bluetooth keyboard with the Excite 13 to work on Office documents. The included Quickoffice HD Lite app allows editing, but you'll want to spring for a full version of the app if productivity is key.
Even without a keyboard, the large on-screen keyboard is sized just right to type on while on a flat surface or in the stand. Typing while holding the tablet proves problematic.
Is the Toshiba Excite 13 Worth It?
Not everyone is ready for a 13-inch tablet, and not every app is ready for a 13-inch Android tablet.
I enjoy using the Excite 13 at home, and have been able to leave my iPad unused for the past week, something that was previously impossible with Android tablets.
For the average user a 13-inch tablet may be too much, but users who love to game, watch movies, use the tablet as a 2nd display and work with a large on-screen keyboard may find the $649 entry price acceptable.
Bottom Line: The Toshiba Excite 13 is a compelling Android tablet with good performance and design, but may prove too big for the average user.
Toshiba Excite 13 Gallery
Toshiba Excite 13 Specs
| | |
| --- | --- |
| OS | Android 4.0 Ice Cream Sandwich |
| Display (size/res) | 13.3 inches / 1600 x 900 |
| CPU and RAM | NVIDIA Tegra 3, 1GB |
| Internal Storage | 32GB |
| Expansion | SD slot (up to 128GB) |
| Ports | microUSB, microHDMI, power, headphone, orientation lock |
| Cameras | 5MP (rear), 2.0MP (front) |
| Wireless | Wi-Fi 802.11 b/g/n; Bluetooth; GPS |
| Size | 13.5 x 8.4 x 0.4 inches |
| Weight | 2.2 pounds |