Toshiba Excite X10 Tablet Size Compared to iPhone and Thrive
On Sunday, we were able to get some hands-on time with the Toshiba Excite X10 tablet, a device that the company says is the world's thinnest and lightest 10-inch tablet in all of the lands. And today on the CES 2012 showroom, we again were able to spend some time with it.
This time though, we compared it to a few other devices in Apple's iPhone (not a tablet) and the Toshiba Thrive (a tablet).
From the photos, you can see how much different the Excite X10 is from the Thrive. And while the Thrive is rubberized, the Excite is comprised of a magnesium finish that, to be quite honest, puts the Thrive to shame.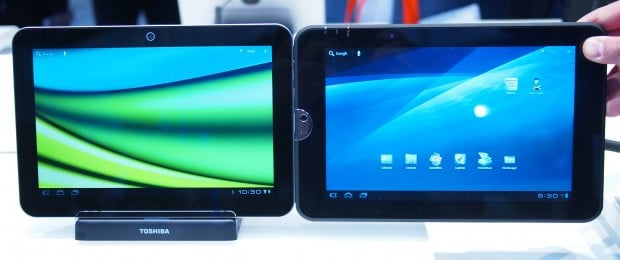 We also thought it appropriate to compare the Excite X10 to the iPhone. No, we're not talking about a size comparison in terms of the footprint. Instead, we wanted to look at the thickness.
As you can see, it's pretty darn close. Impressive for a tablet.
Needless to say, we're fairly excited about Toshiba's offering, we only wish it had Android 4.0 Ice Cream Sandwich out of the box, and we'll be sure to give you a more in-depth analysis when it drops during the spring.
Oh, and if you missed it, here is our hands-on video of Toshiba's Excite X10 Android tablet in all of its glory: