Toshiba Excite X10 Up for Pre-Order, Shipping February 29th?
At this year's CES Toshiba showed off the Excite X10 tablet, one of the thinnest 10-inchers we've seen to date. It stood in stark contrast to the company's first U.S. market Android tablet, the Toshiba Thrive, which is rather thick and large in comparison.
The company has, up to this point, been pretty quiet about the release date. However, Future Shop now has a pre-order page up and a ship date of February 29. Is that hopeful thinking or will the Excite X10 actually launch this week?
Not to be precious, but the Excite is something to get excited about. It's a nice piece of hardware that feels sturdy while also being slim and light thanks to the magnesium alloy casing.
(Related: Toshiba Excite X10 Tablet Size Compared to iPhone and Thrive)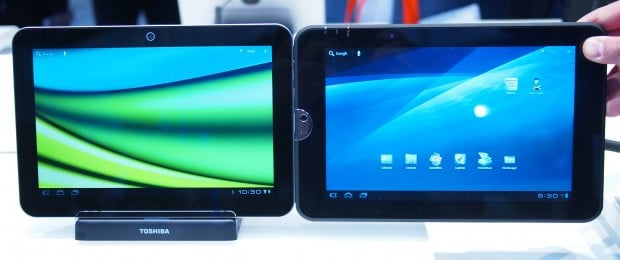 It weights 1.23 pounds (less than the Samsung Galaxy Tab 10.1 and the iPad 2) and is just 0.3 inches thick. Toshiba went in a completely different direction with aesthetics, abandoning the rubber, grippy back reminiscent of Toshiba's laptops to go for a minimalist aesthetic favored by many popular tablets.
Though very thin, the tablet does still have some ports, though none of them are full-size. You get micro SD, mini HDMI and one micro USB port. If you care about full-size ports, this isn't the tablet for you. However, if you cared about those things you wouldn't be looking at the iPad 2 or Tab 10.1, either.
As nice as this hardware is, some of the more rarified amongst you will scoff at the lack of Ice Cream Sandwich at launch (it sports Honeycomb, instead). However, Toshiba isn't ruling it out. With a 1.2GHz TI processor inside and 1GB of RAM it can handle Android 4.0, and will get it sometime this Spring.
(Read: Toshiba Excite X10 Hands-On)
The Toshiba Excite X10 is listed for $549 (16GB) and $599 (32GB) on Future Shop. The 16GB version is $50 more than the iPad and Tab, is the extra thinness worth extra cash?
We're going to get the Excite X10 in for review shortly and let you know.
via: Android Central