Toshiba Prices Thrive, Expects to be Among Top 3 Tablets in US When Launched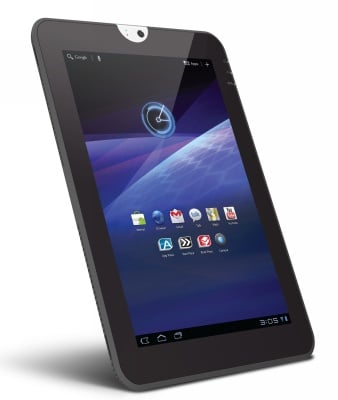 After much rumor and anticipation about the naming of its Android tablet that it debuted at CES earlier this year, Toshiba has formally announced that the tablet would be called Thrive and would be priced aggressively at $429, slotting the tablet between the Asus Eee Pad Transformer (starting at $400) and the Acer Iconia Tab A500 (starting at $450) when launched.
Toshiba has aggressive plans for the consumer tablet market and expects that its aggressively priced Thrive tablet along with its features will make the device among the top three tablets. And that's just not top three within the Android platform, but top three overall. Even if Toshiba manages to snag a number two spot, it will most likely be trailing the market-leading Apple iPad by a pretty far margin.
The tablet will be available for pre-order come the thirteenth of this month and would be available on July 10th.
Video: The tablet was demoed with Android 2.2 Froyo at CES
The device packs in a 10-inch display and will launch natively with Android 3.1 Honeycomb, which brings a number of improvements over Android 3.0. A full-sized USB and SD card slot will round out the spec of the 1.6-pound slate, which is about the same weight as the Motorola Xoom.
While the entry price of the tablet is commendable, the price is for 8 GB of internal storage, compared to 16 GB for the starting prices of rival tablets from Asus and Acer. For $479, users can expect 16 GB, and $579 for 32 GB. However, Toshiba says that it will bring some features not found on other slates to justify the price.
For one, it comes with enhanced audio through SRS sound. The device's screen can also up-convert images and videos through the company's Resolution Plus technology so that it will display photos and videos in amazing color and clarity. The removable battery will also get a fast charging time of just 1.5 hours, almost twice as fast as the competition.
A number of case options are available, as well as rear battery cover in various colors, a multimedia dock, and also a Bluetooth keyboard.
Via: Laptop Mag