Toshiba Thive 7-inch On Sale Now (Sort Of)
Talk about a soft launch. Toshiba's 7-inch Thrive tablet, which hasn't been getting much hype, is apparently on sale. You can get it at one of a handful of online retailers you may never have heard of (except maybe MacMall) but not yet at Best Buy, Amazon, or other more recognizable storefronts.
An Engadget tipster found it for sale by Googling the tablet's model number (pda03u-005007) which brought up a listing at applied-computer.com. Seems you need a business license to buy it there. Brad over at Liliputing found it at eCost and CostCentral. My search has MacMall at the top with a price of $467.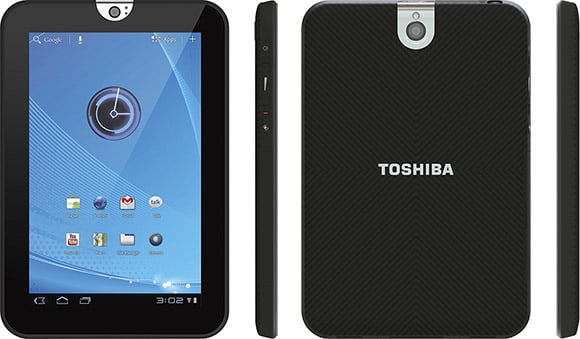 Some websites list the tablet as not in stock yet, others say it is. Not sure if I'd plunk down money for it just yet since availability appears sketchy.
The 7-inch Thrive is thinner than the 10-inch version, which garnered some criticism for being so chunky, and weighs just 0.88 pounds. It lacks the full-size ports of its predecessor as well, but keeps the overall design, including the rubberized back.
Specs on the sites where it's being sold list it as having 32GB of internal memory with a 1-GHz Tegra 2 CPU and 1GB of RAM, like any Honeycomb tablet. Though it's a smaller display, the Thrive still has the 1280 x 800 resolution.
So if you want to be the earliest of early adopters you can scoop up the Thrive and maybe have it before everyone else.

This article may contain affiliate links. Click here for more details.