Toshiba Thrive Honeycomb Tablet Pre-Orders Begin Today
A couple of days ago we brought you a video demo of Toshiba's upcoming Android tablet, the Toshiba Thrive, a device that is now available for pre-order here in the United States.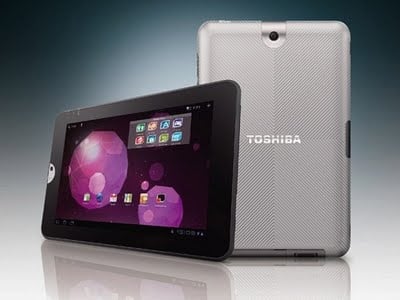 For those with tunnel vision, the Toshiba Thrive is a 10-inch HD display, Android 3.1 Honeycomb powered device which will be arriving with a bevy of features including a 5 MP rear camera, a 2.1 MP front facing shooter, a Tegra 2 dual-core processor from NVIDIA, a replaceable backing for custom skins, and full-sized HDMI out, USB, and microSD  ports.
It's certainly a tablet that, while maybe under the radar a bit, certainly warrants your attention if you're in the market for a Honeycomb tablet that doesn't support 3G connectivity.
Pre-orders are now available at Office Depot and from Toshiba itself. Sadly the 8GB option for $430 is now available it seems which is a little bit of a disappointment. However, both the 16GB and 32GB flavors are available and cost $450 and $570 respectively.No word on the exact release date of the device but July is a pretty good bet.
Anyone going to take the pre-order plunge?
Toshiba Thrive Android Tablet Video Demo

As an Amazon Associate I earn from qualifying purchases.