Toshiba Thrive Honeycomb Tablet Now Available at Newegg
We haven't received an official announcement yet from Toshiba but it looks like its Toshiba Thrive Android Honeycomb tablet has gone on sale at Newegg about a month after the tablet went up for pre-order.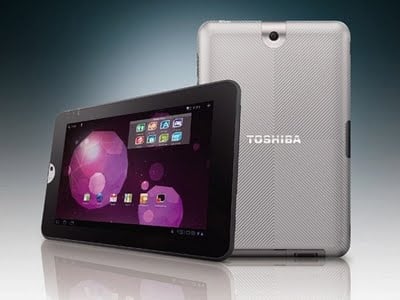 Newegg currently has two models available for purchase, an 8GB model and a 16GB model that currently comes with a free Toshiba back cover. If you recall, the Thrive allows for skin customization as the backing can be taken off and replaced. NewEgg is going to be charging you $429 for the 8GB model and $479 for the 16GB flavored Thrive and the backing.
As far as we know, this is the only place to currently get one of these tablets and we have no idea if this means that pre-orders placed over the last month have begun to ship to customers. Can anyone confirm that?
Interestingly, the 32GB model is not available right now. If you're interested in the 8GB or 16GB models though, you can find the 8GB here and the 16GB here. And if you need a little reminder about what the tablet brings to the table, the Thrive offers a 5 MP rear camera, a 2.1 MP front facing shooter, a Tegra 2 dual-core processor from NVIDIA, a replaceable backing for custom skins, and full-sized HDMI out, USB, and microSD ports.
Not bad at all.
Via: Droid-Life

This article may contain affiliate links. Click here for more details.