Transformer Prime Pre-Orders Return to Amazon
Soon after the Transformer Prime became official, Amazon had begun taking pre-orders for the tablet, but the online retailer had quickly withdrawn its pre-order pages after that as it found out that inventory for the world's first quad-core Tegra 3-powered Android tablet would be strained. It's unclear if supply for the Transformer Prime is easing up again, but Amazon is once again taking pre-orders for the tablet in 32 and 64 GB capacities in both the amethyst gray and champagne color configurations.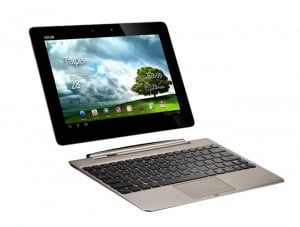 The 32 GB version for both color options starts at $499.99 and the 64 GB version starts at $599.99. The entry level for the Transformer Prime comes in at $100 higher than the original Eee Pad Transformer, which had a $400 entry price point, though you do get more storage and better specs for the second-generation Transformer Prime.
It should be noted that these prices do not include the cost of the optional laptop keyboard dock that converts the Transformer Prime into a laptop form factor. That docking accessory costs an extra $150. At the 64 GB price point and the dock, users are looking at $750, bringing the price of the package closer to the price of Ultrabooks.
The tablet is slated for release this month in December.

As an Amazon Associate I earn from qualifying purchases.