Transformer Prime's Launch Delayed for Android 4.0 Ice Cream Sandwich
Merely a few weeks ago when Asus CEO Jonney Shih had flashed the next-generation Eee Pad Transformer Prime on stage at the AsiaD conference, he had hinted that the quad-core mobile tablet would launch in time for the holiday shopping season. Now, we're hearing speculations that the Transformer Prime, which may be among the first if not the first tablet to ship with NVIDIA's quad-core Tegra 3 chipset, may be delayed for consumer availability until nearly 2012 though the tablet may still be announced as previously believed on November 9.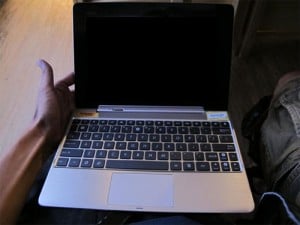 The reason for the delay in ship date, according to DigiTimes sources, is that Asus may have received special help from Google in an effort to make the Transformer Prime the first tablet to debut the company's next generation mobile OS for tablets known as Ice Cream Sandwich. That version of Android is also referred to as Android 4.0. With Android 3.0 Honeycomb, Google chose to work with Motorola and Verizon Wireless to debut the OS on the Motorola Xoom, which set the tablet benchmark with a 10.1-inch display and dual-core Tegra 2 CPU.
It's interesting to see Google choose two different chipsets for Ice Cream Sandwich. On the smartphone side, the Android OS-maker had chosen to work with Samsung and Texas Instruments to have the latter's OMAP ARM-based chip be a reference design for the Galaxy Nexus. On the tablet side, a quad-core experience is preferred with Ice Cream Sandwich for slates ushering in Tegra 3.
Neither Google nor Asus has confirmed if there is indeed deeper collaboration between the two. It was previously reported that the Transformer Prime would launch with Honeycomb and be upgraded to Ice Cream Sandwich at a later date, but it looks like if the latest speculations are true then Asus wants Ice Cream Sandwich to be an out-of-box experience.
The move to make Asus a launch partner for the tablet side of Ice Cream Sandwich may be strategic on the part of Google, according to DigitTimes:
Since Google has cold-shouldered Taiwan-based PC brand vendors over the assistance of upgrading from Android 3.0 to 4.0, it has prompted these vendors to turn their focus from Android to Microsoft's Windows 8, the sources noted.
The Transformer line has gained acclaim thanks to an innovative laptop dock concept.

As an Amazon Associate I earn from qualifying purchases.