Tronsmart Orion R68 Review: Full Android Set-Top Box
Would you like to run Android on a computer? Tronsmart thinks customers would, so they offer the Tronsmart Orion R68 Android set-top box for streaming video to a TV or to use as a low profile desktop computer.
The idea of an Android computer seems appealing as the platform grows more mature. HP attempted to offer this with the HP Slatebook 14, an Android-based laptop that shares design style with their popular HP Chromebook 14 that we loved. Android works best in a touch-based mobile environment, but can it work on a computer without a touch screen? With the Tronsmart Orion R68 we wondered if it would work in a living room setting with a remote control or on a desktop?
Please see our review of the Tronsmart Ara X5 Windows 10 set-top box.
Tronsmart Orion R68 Design
Those familiar with an Amazon Fire TV will probably think the Tronsmart Orion R68 looks familiar. It's got a similar black square shape. The box feels extremely light since it's made with plastic. It also has a non-skid surface on the bottom. It feels solid even though it's so light.
The back and right sides contain all the ports and connectors, while the front and left side are smooth. The Tronsmart Orion R68 includes 2 USB 2.0 ports, a micro-USB port and an SD card slot. Two small slots allow for heat dissipation.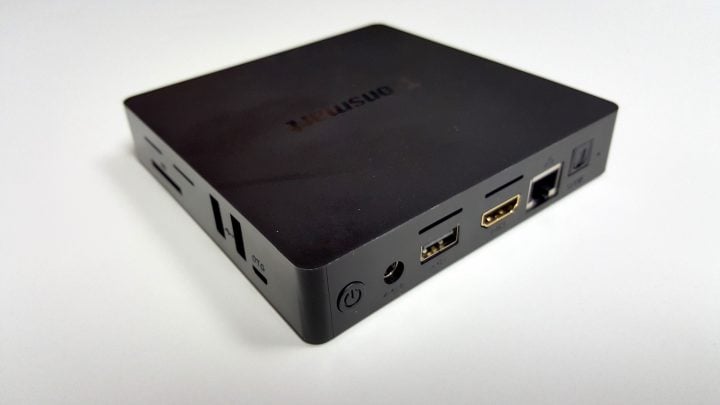 On the back we get the power button, power cord connector, another USB 2.0 port, an HDMI out, Ethernet (10/100) and S/SPDIF for high quality sound output to a stereo system.
The box connects to your TV, network and peripherals easily. The USB ports allow the user to hook up a keyboard and mouse to use it as a desktop computer. I also connected a Logitech Illuminated Living Room k830 keyboard with a built-in touchpad for computing from the couch. Optionally, hook up external storage to store large video files or a big movie/picture collection.
There's an included remote control with a power button, a home button, and a mouse pointer button. The home button works like your phone's home button while the mouse pointer button toggles the mouse pointer on and off. Use the directional button with the four up/down/left/right arrows to control the mouse cursor using the remote. The menu and back buttons as well as volume up/down buttons round out the remote's features.
The remote is comfortable in your hand. It's awkward controlling the mouse cursor with it, but at least it's possible. The keyboard solution above works better than the remote.
Tronsmart Orion R68 Features
The Tronsmart Orion R68 does a nice job of bringing Android to a desktop or set-top box setting. I tried it out in my office by connecting it to my desktop monitor. I used it for some limited productivity work.
Android started to shine as a nice entertainment platform now that most of the best streaming services offer apps. Netflix, Hulu and YouTube all work great. We installed as a many TV streaming apps as we could and they all worked well.
Thanks to the USB ports and SD-card slots, users can enjoy their own media. With the Tronsmart Orion R68, users can play high-quality videos including 4K, show off pictures as slide shows or play MP3 files. The S/SPDIF port helps give music lovers a great tool to hook up to a surround sound stereo system.
The Rockchip RK3368 Octa-core (Cortex A53) even makes it a useful gaming system. The Power VR6110 GPU allowed us to play some of the fun Android games available.
The internal storage is a little limited, so you'll definitely need some external storage for your personal media files. Some Android apps let you move the app to external storage, but others don't so the Tronsmart's internal storage can fill up quickly.
It has a nice media-centric launch app that makes the remote control useful.
Tronsmart Orion R68 Recommendation
Should buyers who want to run Android on their TVs get an Android TV like the excellent NVIDIA Shield TV, which we heartily recommended, or should they go with a full Android-based set-top box like the Tronsmart Orion R68?
The NVIDIA Shield TV brings Android TV to your set in a powerful and feature-filled solution. It's easier to use and more powerful for gaming. However, not all the streaming TV apps work on the NVIDIA Shield TV, but they should all work on the Tronsmart Orion R68 since it runs a full version of Android 5.1.1. The Tronsmart Orion R68 also costs less than the Shield TV at only about $100 on Amazon.
What about those who want a cheap Android desktop computer? The Tronsmart Orion R68 shines as a tool for productivity apps. Run an Office app or one of the Google office apps and you've got a simple, low-cost office tool. It fits perfectly in a kid's room, a college dorm room or as a second PC.
Gamers should definitely pick the NVIDIA Shield TV, however. It's more powerful and comes with an  awesome gaming controller.
There's another Android set-top box that's available for order called the Remix Mini. It's a Kickstarter project that finally started shipping. I backed it and just received it. It's a promising option at only $70.
To summarize, gamers won't enjoy the Tronsmart as much as the Shield TV, but the Tronsmart outshines the competition for streaming media and as a productivity tool.

As an Amazon Associate I earn from qualifying purchases.