Tweetbot 4 Release Brings Overhauled Design & New Features
A much anticipated update to Tweetbot has arrived in the form of Tweetbot 4. With it brings an overhauled design on the iPad and new features.
This time around, it's now one universal app that works on both iPhone and iPad. Furthermore, it's an all-new app to begin with, meaning that you can't update from Tweetbot 3, but rather you have to buy the new Tweetbot 4 all over again for $4.99.
While the new app looks relatively unchanged on the iPhone, the iPad version received a nice little upgrade. Tweetbot for the iPad has been neglected somewhat and hasn't received an update an over a year, so it was certainly time for the iPad version to get an overhaul of sorts.
Tweetbot 4 supports iOS 9's new Split View multitasking feature, allowing you to use two apps at once on the iPad, so you can view your tweets while also browsing a website in Safari, making it the ultimate productive tool for mobile users. There's the ability to Quick Reply to a tweet from the Notification Center on your device.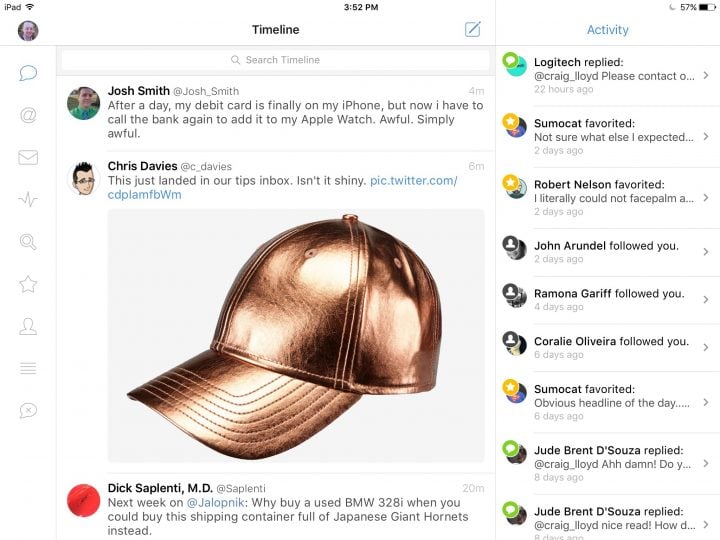 Furthermore, there's also a new landscape mode that works with the iPhone 6 Plus, iPhone 6s Plus, and the iPad. With landscape mode, the app displays two window panes side-by-side, showing the user's timeline as usual, but also providing another off to the side where you can view only your mentions, lists, or general activity on your tweets (like retweets and favorites from other users).
The new Activity View is something special, as the official Twitter app only has this feature and Twitter's API restricts other third-party apps from having a feature like this, but Tweetbot was able to workaround this restriction and create its own activity stream of sorts that's perhaps better than Twitter's own activity view.
There's also a new Statistics View in Tweetbot 4, giving you a daily overview of your statistics and how well your tweets are performing. It tracks retweets, follows, and favorites, all of which are displayed in a cool graph layout.
Just like with the previous version of Tweetbot, not a lot has changed as far as interacting with individual tweets. You can swipe left to view individual tweets and have options to reply, retweet, favorite, and share that tweet. And you now have the option to swipe right on a tweet to instantly retweet it or favorite it, which you can customize the specific action you want in the settings. Swiping further to the right will allow you to quickly reply to that tweet.
For those users who take advantage of the different filters that Tweetbot offers, you'll be pleased to know that mute filters have been improved. You can now mute keywords, hashtags, and other users directly from the dedicated mute section. You can even set a specific length of time to mute someone or something, and there are some other filter customizations you can take advantage of as well.
Again, Tweetbot 4 is priced at $4.99 currently, but will jump up to $9.99 when the temporary sale is over with. Luckily, for those who purchased Tweetbot 3 in the past, that $4.99 price will remain the same at all times, so there's no rush to go out and buy this new version if you already have the previous version.
This shouldn't be too much of a surprise, though, as Tweetbot has always charged users for every new app that it has released, including Tweetbot 2 and Tweetbot 3, both of which were completely new apps that you have to purchase again. Still, that's not a lot of money to spend, especially since you're only spending a few dollars every year when a new app releases.
Oh, and it's also worth noting that Tweetbot 4 is only compatible with iOS 9.

As an Amazon Associate I earn from qualifying purchases.