Tweetbot Adds Chrome, 1Password Browser Support
A new update to Tweetbot gives users the option to open links in either the Chrome or 1Password browsers, giving users more choice over which browser they prefer to use.
With the new update users can choose to open links in their timeline in any of the three browsers, and can even choose to open the links directly in the apps. Users also have the option to open link inside Tweetbot and then choose to open them in a browser later, which is how links worked in earlier versions of the app.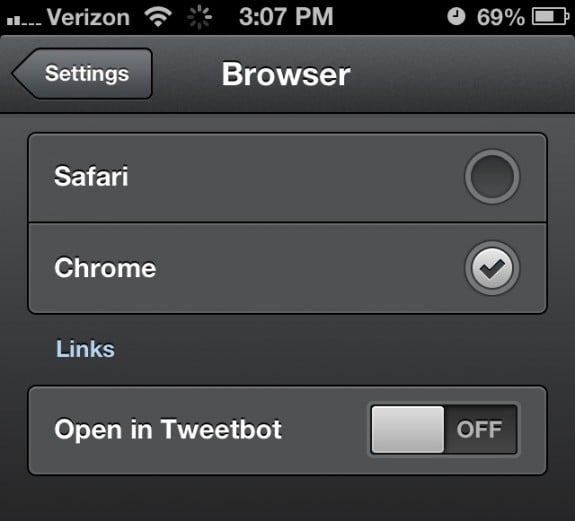 The update for Tweetbot also adds inline support for Flickr and Vine, making it easier to see photos and videos from those services. Previously those links just opened webpages for those services, which made viewing the content annoying.
Tweetbot's Chrome support is especially interesting because it uses a feature in Chrome to change the back button into a button to bring the user back to Tweetbot. The button makes it easy to return to Tweetbot after reading an article.
The downside is pressing that button will close that tab. Users can get around that by switching to Tweetbot through the multitasking menu. Tabs opened from Tweetbot will keep the special button until the user clicks on a link in the website or enters a different URL.
Letting users open links in their preferred browser gives users a choice that iOS itself won't let users make. Apple's iOS won't let users choose their own default apps for web browsing. An increasing number of apps give users the option to open links in Chrome, eliminating the need for users to copy and paste links into the browser.
With new apps letting users choose their browser users only need to interact with Safari when opening links from Apple apps such as Messages or Email.

As an Amazon Associate I earn from qualifying purchases.