Tweetbot for iPhone and iPad Adds Beautiful Media Feed
A new update to Tweetbot for iPhone and iPad adds a new media timeline that makes looking through photos and videos on Twitter easier.
The new version of Tweetbot defaults to the same list view that users are familiar with, but adds another option to highlight media shared over Twitter. At the top of any timeline, next to the search box there is a new button that lets users switch between the standard timeline of tweets and the new media timeline.
The media timeline shows every photo and video shared inline, so users don't have to tap on a link or small square to view them. The timeline strips out all tweets without media, so users can focus on just the photos and videos. That means many users won't want to use the media timeline as their default, though some may choose to.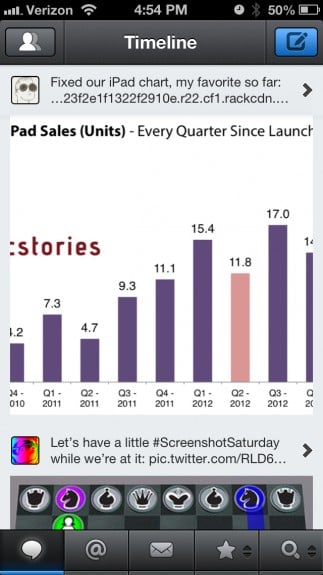 In the media timeline users can still tap on items to get a closer better of them. The zoomed in view shows the full photo lets users play videos. It's relatively similar to how Facebook handles photos in the News Feed. Like Facebook users just have to swipe the content up to view the feed again.
How the app handles video depends on how the user shared it. Vines will play in Tweetbot's media player like they do in the standard timeline, while links to YouTube videos will open a YouTube website where users can view the videos.
Tweetbot 2.8 also adds the ability to view the number of favorites and retweets individual tweets have in the tweet detail view. The numbers will change in real-time so users can see just how many retweets Justin Bieber gets in real-time.
As The Next Web points out, it's not clear if any of the changes work with Twitter's new guidelines on how clients can display tweets. Users will have to wait and see if Twitter has a problem with it, but for now the new timeline is a great way to interact with media on Twitter.

As an Amazon Associate I earn from qualifying purchases.