Tweetbot Update Adds Storify Support
Tweetbot, one of the best iOS Twitter apps, adds support for Storify and a new conversation view with its version 1.3 update.
Both the iPhone and iPad versions of Tweetbot received updates today to add Storify support for conversations. With Storify, Tweetbot users now have an easier way to share their Twitter conversations with the rest of their followers.
To use the new feature just swipe from left to right on a tweet to view the conversation, the share button in the top right of the screen will offer the option to email the conversation or tweet a link. Tweeting a link posts the full conversation to Storify, which can then be edited later if needed. Here's an example of a Storify conversation between myself and GottaBeMobile editor Josh Smith talking about our addiction to computer bags.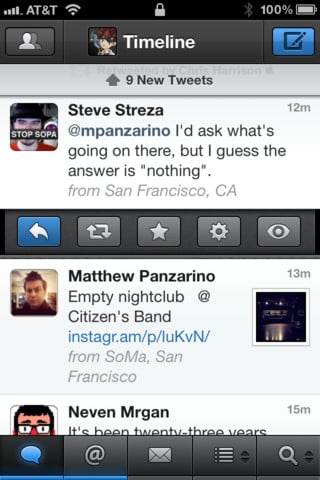 The conversation view was also updated. The view now includes both the conversation and replies. The new view makes it easier to view a full conversation users might start in the middle of.
Other small features include Droplr support, a play button overlaid on video thumbnails, thumbnail support for Vimeo videos, Arabic localization, and higher-res image uploads when using the app over WiFi. The new version also makes it easier to track stock links such as $AAPL, which is useful to those who prefer to use the "$" symbol instead of the traditional hashtag for business and stock news.
Tweetbot still doesn't have support for Twitter's "Interactions" page. According to The Verge which spoke to Tweetbot developer Paul Haddad, the implementation would be difficult as Twitter hasn't released the API for the page yet.
For now, Interactions is the one feature the official Twitter app has over Tweetbot. Tweetbot does offer push notifications to notify users when others follow or retweet them, but there's no page in the app that shows the notifications.