Twitter for Android Optimized for Tablets, Samsung Only for Now
What seemed to take ages is now finally available. Twitter has launched a tablet-optimized version of its Android app to the masses. However, there is one huge catch: it only works with one Samsung tablet for the time being (Galaxy Note 10.1 2014 Edition), meaning that Nexus 7 owners and other Android tablet users are SOL for now, until the company spreads compatibility eventually.
Twitter did mention that the app will arrive on "other Android tablets by the end of the year," but they didn't provide specifics as to what tablets will get the honor. However, the company is hinting to the fact that more Samsung tablets will be next, followed by the rest of the herd, but it's head-scratching as to why the Nexus 7 (one of the most popular Android tablets on the market) isn't getting any love yet.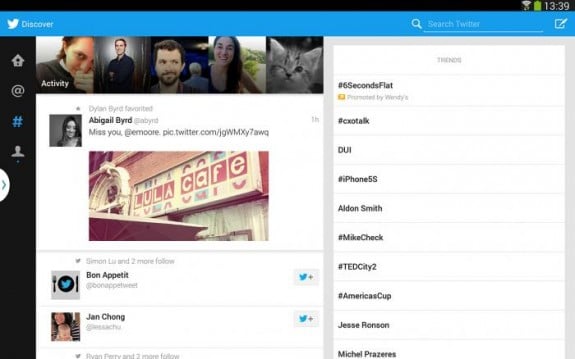 The app offers the traditional two-column landscape layout to take advantage of the larger display that tablets are graced with these days. Essentially, it looks pretty similar to Twitter's iPad app, offering much of the same layout elements and user interface features. The app is also compatible with Samsung's multi-window feature, which allows users to use two apps at the same time side-by-side. This is probably why it's an exclusive to Samsung tablets for the time being; we're guessing that other tablets won't get this feature.
Furthermore, users can use the Galaxy Note 10.1's S Pen to draw pictures and write on photos, and post them to Twitter with all of that taking place right in the app itself — another Samsung-exclusive feature that other tablets probably won't get.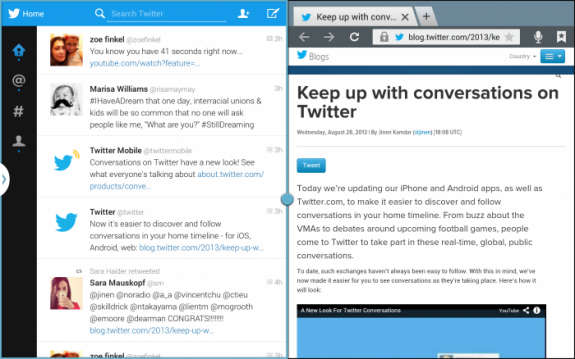 The tablet-optimized app also includes a new widget for the home screen, allowing users to get a personalized set of suggested tweets from Twitter based on their original feed. You'll see tweets from users you already follow, as well as popular tweets from folks who you don't follow (but may want to, according to Twitter). Tapping on a tweet from the widget will open up the tweet in full inside the Twitter app, and you can also retweet and favorite tweets right from the widgets.

As an Amazon Associate I earn from qualifying purchases.