Twitter Releases Vine For Android
Starting today Android users can record their own six-second videos to upload to Vine, thanks to the release of Vine for Android.
The new Vine for Android comes several weeks after the initial launch of the iPhone Vine app, though it does come with an exclusive feature for Android users. Vine for Android offers zoom, giving users a bit more control over what's in the frame of their shots without moving their phone closer to the action.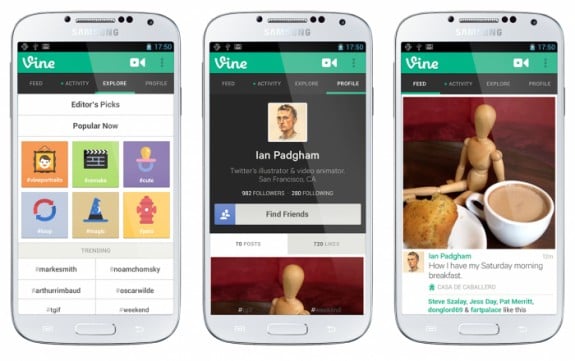 Vine for Android is now available for free in the Google Play Store for any user with Android 4.0 or above. Aside from the added zoom feature, the app looks the same as Vine for iPhone. The menu bar of the app is slightly different on Android, but that merely makes the app fit better on the platform, everything else looks just like the iOS app.
While the Android app looks similar to the iOS app, it does lack a few key features. For now Android users can't share their Vine videos to Facebook, search, add hashtags or mention friends in their posts. The app also lacks the ability to use the front-facing camera.
Those features will come to Vine for Android sometime over the course of the next few weeks. Those features are pretty big omissions, but at least Android users can finally share their six-second videos with their friends. Even a basic app that's missing a few key features is better than nothing.
Along with the new Android app, Twitter announced that 13 million people have signed up for Vine since its release. It's not clear how many of those users signed up and grew bored with the app or forgot about it after a week, however. Twitter won't say how many active users the service has, though it seems the app is still fairly popular among some users.