Two Reasons I Use Both an Android Phone and an iPad
A lot of mobile device users pick one OS ecosystem and use a compatible phone and tablet so they can buy apps once and learn just one OS. However, I use an Android phone and an iPad tablet… and love both platforms. I don't plan to give either one up just to use a single mobile OS.
With the launch of the Samsung Galaxy Note I have put my iPhone 4 down and used the Note, the Samsung Galaxy S3, S4 and now the HTC One as my daily driver. When iPhone 4s hit, I upgraded, but quickly missed Android on my phone, so I quit using it, forwarding the line to my S3. The iPhone 5 launched and the same thing happened. I gave my wife the iPhone 5 and put our family phone number on her old iPhone 4s, which now sits at home most of the time.
I own a Nexus 7 and found a Nexus 10 for half price on Craigslist, but they're primarily used as eReaders. I use my iPad mini 90 percent of the time. I've owned every iPad except for the iPad 4, since it wasn't a big enough upgrade over the iPad 3, but I'll buy the iPad 5 and an iPad mini 2, if it comes with Retina Display.
Here's why I love my Android Phone and iPad.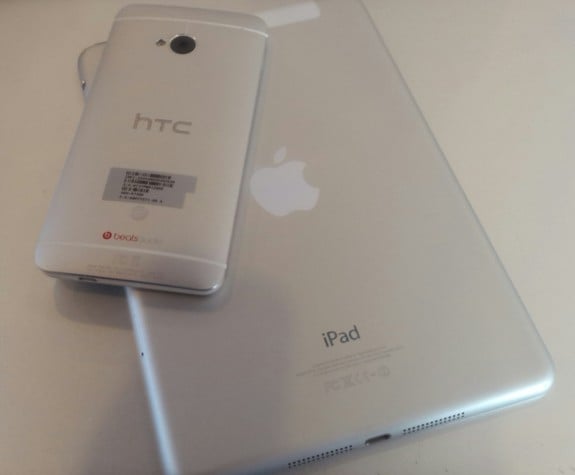 iPad Apps Are Still Better
Early in the iOS v. Android war, iPad apps worked better, looked nicer and saw more availability than Android tablet apps. We've seen a huge improvement in Android apps in the last year. Developers improved their Android apps for tablet use. Developers, who produced apps for both platforms, sped up their implementation of key features on the Android side. This brought us closer to feature parity. When there's a difference between platforms in an app, they're usually minor.
Despite the improvements we still see a difference. This most often shows up in specialty apps and low profile apps. The big apps like Twitter, Facebook, HBO Go and others usually work the same or close to the same on both platforms. Lesser known apps often don't. For example, I use a Bible app from a company called Logos Bible Software (free). The Android version (free) lags behind the iOS version. Since the app lets me read books, it's more important on the tablet than the phone.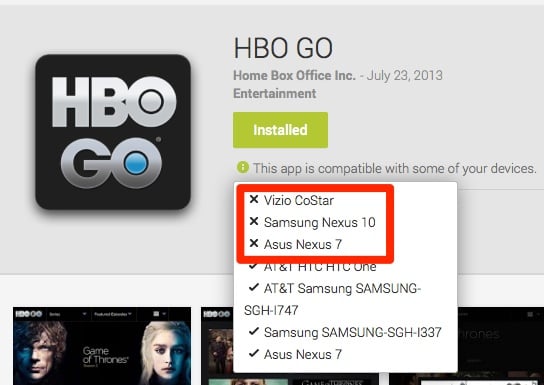 While the big name apps often work on Android and iOS the same way, they don't always work on all Android tablets. It's common for Android users to see the dreaded "app is compatible with some of your devices" phrase in the Google Play store for a popular app, like HBO Go. Most apps work on any version of iOS and most users upgrade to the new version within a few weeks to a few months. On Android many users don't have the choice to upgrade, but developers still focus on making their apps work with newer versions or older apps work only on older versions.
I use my tablet to write notes using a stylus. I've still not found a single Android app that handles inking and note taking/organization the way I like. I can count at least five on iOS that I'd willingly use regularly.
The Nexus 7 is a great small form factor tablet, but the iPad mini is still my primary tablet 90 percent of the time because of the above reasons, and because I was able to buy an LTE version at launch. Meanwhile, the LTE version of the new Nexus 7 showed up weeks after the launch. It's more convenient to use my LTE iPad mini than it is to use my Wi-Fi only Nexus 7.
Android Screen Size and Customization Trumps iPhone
Despite all the reasons why the iPad works better than an Android tablet, the iPhone feels like a toy compared to the HTC One, my workhorse tool. That's why I bought the HTC One before Apple officially launched the iPhone 5s. The Samsung Galaxy S4 served me well, but I prefer the HTC One hardware. I'd rather use either phone than any iPhone due to the larger screen and Android's customization features.
Even if Apple bumped their tiny screen size to something like a wider 4.5-inch screen, it would still suffer from a terrible keyboard. On Android …
Users can pick from hundreds of keyboard styles

Slide between keys speeding up typing

Use excellent word prediction engines from Swiftkey or Google keyboards
See lower case letters when not typing upper case letters, which Apple inexplicably left out of iOS 7
These issues feel more pronounced on a smaller screen.
Android offers hundreds of great widgets that run on the home screen of an Android phone. Apple has the iOS 7 Control Center, which helps a lot. Still, I can't use my two most used widgets on an iPhone.
My phone serves as a document scanner and voice recorder. The Evernote widget adds these tools to my home screen. iPhone doesn't. Pocket Casts works great for podcasts. Their home screen widget lets me control the app without opening it, but iPhone won't allow it.
These weaknesses exist on iPad, but they don't matter as much. I don't use my iPad for Podcasts or to record voice or snap pics of documents. The larger iPad keyboard could use improvement, but it's not as big a problem on the bigger screen.