U.K. Shows the U.S. How to Keep Carriers Under Control
If there's one thing the United States' mobile industry is known for, it's the ferocity with which American smartphone carriers lock users into service agreements and slowly strip away their rights and privileges. It's a vicious cycle, one that many smartphone buyers hope will end with a re-energized Federal Communications Commission. Luckily, should the U.S. government chose to do something about AT&T, T-Mobile, Sprint and Verizon's tactics, they've got a perfect model in the United Kingdom. It's there that the major carriers have agreed to cap bills, stop mid-contract price hikes and more.
The United Kingdom's Department for Culture, Media & Sport announced an agreement this morning that unilaterally makes lives easier for smartphone users who signed an agreement with that nation's four largest carriers.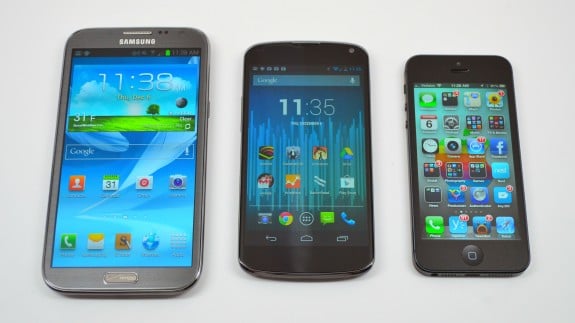 Starting sometime next year, EE, Three, Virginia Media and Vodafone will introduce a cap on phone bills belonging to devices that have been lost or stolen. The new cap means that phones used by thieves to run through the original owner's data plans or minute allotment would never exceed £50. As that's around $70 in the United States, it would go a long way in helping victims of smartphone theft recover.
The U.K. government and mobile carrier's agreement on halting the practice of raising pricing on services is also a pretty huge win for consumers. Though carriers in the United States change pricing on occasion, typically they don't do so to users who've already signed a contract. Now users in the United Kingdom can expect that same stability in their carrier's pricing structure. Should they not be comfortable with the new pricing, a user in the United Kingdom could terminate their contract without penalty. (It should be noted that – some carriers in the United States do get away with altering the amount add-on services cost, like smartphone insurance.)
Today's agreement includes a plan to eliminate roaming fees by 2016, too. All told, the agreement is a complete win for users in the United Kingdom, and modeling mobile carrier regulation on this agreement would me a return to sanity for smartphone and mobile phone owners in the United States. For years, U.S. users have put up with ever-changing bills and unpredictable policies towards calling and data roaming and more.

This article may contain affiliate links. Click here for more details.