U.S. Cellular Announces Motorola Electrify 2 and Defy XT
U.S. Cellular has a pair of new Motorola Android phones to offer to including the follow-up to the Electrify, and the durable Defy XT.
Of the two new smartphones the Electrify 2 is the higher-end model. it features a 1.2GHz dual-core CPU and a 4.3-inch screen with ColorBoost. The camera also includes an 8MP rear-facing camera and a Kevlar back. The 8MP camera can also shoot 1080p video.
Motorola will ship the Electrify 2 with Android 4.0 Ice Cream Sandwich and uses Motorola's Smart Actions to help save battery life. At just 84.mm thin the Electrify 2 sounds very similar to the Droid RAZR on Verizon. From the image, however, we can tell that it's actually a rebranded Atrix HD.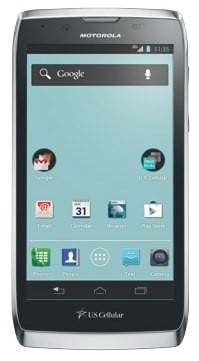 The Motorola Defy XT is more of a mid-range, durable smartphone. Like most durable smartphones it's water-resistant, dustproof, and has a scratch-resistant screen. The screen on the phone is only 3.7-inches and has a 480×854 resolution, which is the same resolution as the original Droid on Verizon.
The Motorola Defy XT has a 1GHz processor with 512MB of RAM, 1GB of internal storage, and a microSD card slot to add up to 32GB of extra storage. It also has a 5MP rear-facing camera. The specs aren't much to talk about, the main draw for the Defy XT is its durability. We doubt anybody will buy this phone for its specs.
The Motorola Electrify 2 is on sale now for $180 online, and will arrive in stores tomorrow, August 2. The Defy XT will arrive in U.S. Cellular stores on August 3.