Ubuntu For Android Turns Your Smartphone Into A Real Computer
Canonical, the company behind the Ubuntu Linux distribution, announced a project that will change Android phones forever (in a good way) in the very near future.
Ubuntu for Android is a full-fledged version of the desktop operating system that can run on Android phones. Not as a hack or a fun project for the folks over at xda. This is something that would ship with an Android phone, sort of like a dual-boot computer.
Users can access Ubuntu when they dock the device and use Android normally any other time. Hook up an HD monitor and a USB keyboard and mouse, then use Ubuntu as you normally would. It's not a stripped down version — users can access all of the applications and functionality on Ubuntu from browsers to office programs to media players.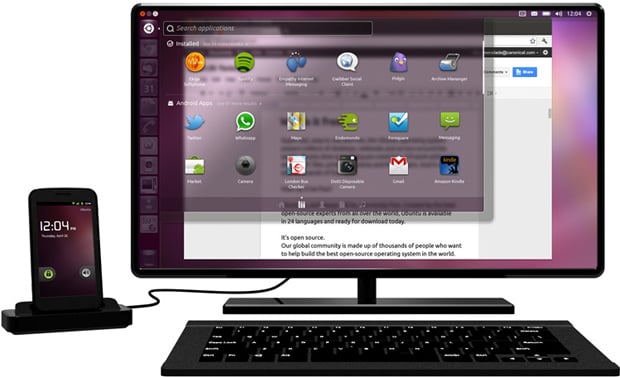 Ubuntu for Android can also access Android apps and data. You won't need to keep a separate contact list and you can access your text messages as well. This works because Ubuntu and Android are both Linux at their core. So it's easy for them to share the same device and internal memory.
The press releases focuses on how useful this will be for enterprise users. Just give a mobile worker a phone instead of a phone and laptop, and she can get the same kind of work done as long as she has access to a monitor and keyboard. However, in light of what I was talking about in this post, I can see this being very beneficial to consumers, especially those in lower income brackets.
If a person can really use their phone as a desktop, then they get the benefit of a portable device that serves a multitude of purposes but is actually perfect for productivity and has a fast connection to the Internet. Data plans can be expensive, but since the devices can also connect to Wi-Fi you don't need to rely on your carrier for every bit of data.
Ubuntu for Android's minimum requirements include a 1GHz processor and 512MB of RAM plus 2GB of free storage, according to Android Central. The press release makes mention of quad-core phones, which is probably what Canonical is aiming for, in the end.
Smartphones also need to support USB host mode and HDMI out. MHL adapters will work. So the Galaxy Nexus and Galaxy Note would work with this OS (if you can install it).
I hope that manufacturers who create Ubuntu on Android phones will also make docks with USB and HDMI output built-in. No need for a Webtop-like contraption, just a simple dock that makes it easy to connect things up. We may also see a resurgence in portable monitors the way portable/foldable keyboards are coming back in style thanks to tablets.
I also predict that handsets made with Ubuntu in mind will have more internal memory. You don't need a lot to run the OS, but once you start downloading applications and storing data extra room is necessary. 16GB would probably do it, and with micro SD expansion that takes 32GB cards you're all set.
All of the information about Ubuntu on Android mentions that it should be easy to integrate into phones in development, but doesn't talk about whether users will be able to install It on existing models. I'm sure that, even if that's not in the official plans, someone will figure out how to make that happen.
Expect to see Ubuntu/Android phones by the end of this year.  Will Ubuntu for Android tablets come next? Cross your fingers, kids.