Umeox Apollo: Android Smartphone Meets the Power of the Sun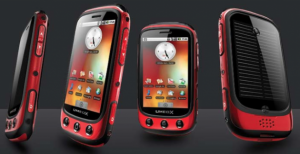 The Umeox Apollo is an Android smartphone whose claim to fame is its integrated solar power charging back. Rather than hopping on the wireless charging bandwagon, Apollo will be taking a more green approach by harnessing solar energy to power the green robot innards of this Android handset.
Unlike other eco-friendly concepts of yore, Umeox is promising that this one is headed to production, though it's still dubious if the Apollo will land Stateside. That said, there will be two GSM versions–one that will support AT&T's network in the U.S. and one that will be compatible with networks in the E.U. and Asia.
The Apollo is more of a low-end handset that includes solar power charging. The device has a 3.2-inch WQVGA display, a paltry 1 GB storage with a micro SD card slot, 3-megapixel rear camera, FM radio, and 3.5 mm headphone jack.
When using the sun to power your device, it takes about 2.5 hours of sunlight to top off your battery. However, the charging time will increase to a full 17 hours if you let your battery deplete completely.
The handset is expected to ship in the third quarter of this year, which will make the WQVGA screen even more dated, considering that newer handsets like Motorola's Atrix 4G will support an nHD screen and the iPhone has its Retina Display.
Via: MobileCrunch