Under Armour HealthBox: Track Sleep, Fitness & More
The Under Armour HealthBox is a new connected fitness accessory that aims to deliver everything you need to track your health in one package and enable apps and devices to talk to each other so that you have a complete picture of your health from sleep and nutrition to activity and fitness.
Under Armour partners with HTC to deliver the HealthBox and an updated UA Record app at CES 2016. This new accessory and app update join a growing number of Under Armour apps and accessories including MyFitnessPal that helped a Gotta Be Mobile editor lose 25 pounds in 2015.
The HealthBox includes a wearable band, a heart rate monitor and a WiFi scale to deliver a complete picture of your health and retails for $400.
"This system contains everything a consumer needs to better manage their health and fitness," said Wolfgang Muller, Executive Director – Connected Products, HTC in a press release about the product. "Whether you are a high performance athlete or simply committed to improving your health, UA HealthBox is the only system that delivers the complete picture and provides the information and motivation needed to achieve your goals."
Although the UA HealthBox is made by HTC, it works with most Android phones and with the iPhone. Here's a closer look at what you get with the UA HealthBox.
UA Band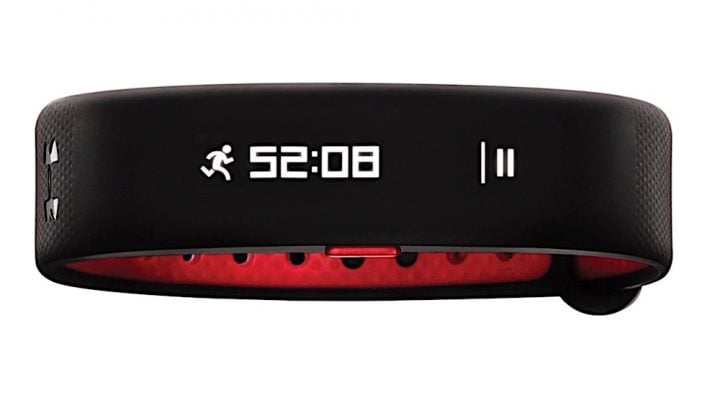 A wearable that you keep on all day. The UA Band tracks your activity, workouts and sleep complete with goal setting and progress tracking directly from the band. A display is hidden under an outer layer so that you don't see the tech part of this when you don't need it. There is an advanced workout mode that keeps the display on during a workout and an LED that shows heart rate zone when you pair with the UA Heart Rate band that is included with the package.
UA Heart Rate
This is a compact hear rate monitor that UA says uses micro snap technology to make it undetectable during workouts. The chest strap and sensor allow users to better track intensity and work out smarter. With the UA Heart Rate accessory and the UA Record app users should know how many calories are burned in a workout and it is possible to customize heart rate zones.
UA Scale
The UA Scale is a WiFi scale with a circular design that can measure your weight and body fat percentage. A hidden LED display disappears when you aren't using the scale. The UA Scale supports eight users and syncs with the UA Record app to show weight trends. Like the UA Band, the scale is available in red and black.
"There are several options for consumers today when it comes to monitoring their daily activity, but no option when it comes to capturing and presenting information in a meaningful way.  Most of us know more about the health of our car than we do about our own bodies," said Robin Thurston, Chief Digital Officer, Under Armour.
The updated UA Record app is available on Google Play and iTunes. The UA HealthBox release date is January 22nd with pre-orders starting today at HTC and UA.
Check out the rest of our CES 2016 coverage to see the latest gadgets, accessories, smartphones and other cool tech for 2016.
11 Best Weight Loss Apps in 2020
Lose it Weight Loss App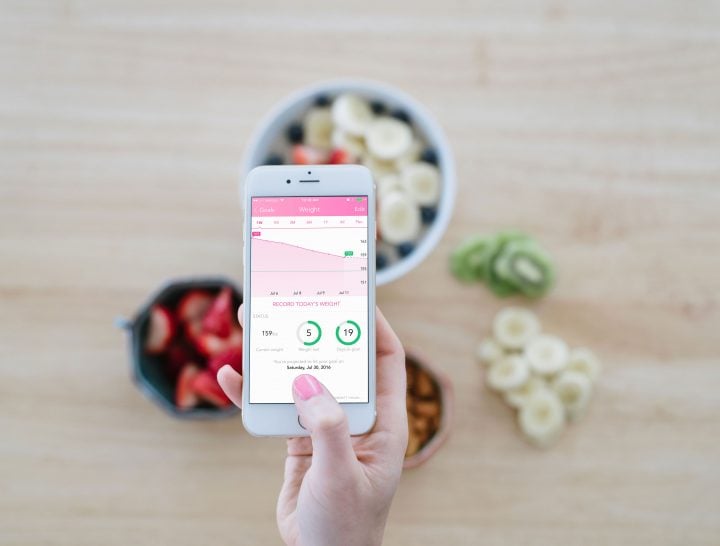 Lose It is a free weight loss app for iPhone and Android that helps you achieve sustainable healthy weight loss. This tool includes an app as well as a website so you can see your information on your computer as well.
You can connect to people, your various devices and food information that will help you lose weight with smart decisions. Lose It helps you create a personalized weight loss plan with goals that include a goal weight as well as total wellness and fitness.
The app includes access to a verified food database that helps you track your calories with easy searching, or add custom foods and you can share recipes. You can also scan a UPC to add food.
Lose It connects to other apps like RunKeeper, Nike+ and a variety of devices and scales to help you track all of your fitness data easily and intelligently. You can create goals with a group of friends, challenge friends or yourself and get support from the group to stay on track.

Lose It is free, with a $39.99 premium option that includes much more tracking, meal planning and other upgrades.