Unknown Motorola Android Smartphone Shows Up On Video
An unannounced Motorola Android handset was shown leaked on video, but the device is believed to not be the much rumored Motorola X Phone that's believed to be announced at the Google I/O developer conference in May. At this point, the device shares some design aesthetics with the Droid RAZR HD series.
https://youtu.be/YxYEt8S7q-4
In terms of design, unlike the current Motorola Droid RAZR HD series on Verizon Wireless, this handset sports a more curved back similar to some older Sony handsets, like the Sony Xperia TL. On the rear, there is a very large camera lens and single LED flash. The sides of the device are kept pretty minimalist with a SIM tray and a power button–missing in action are the volume buttons and a removable memory card slot.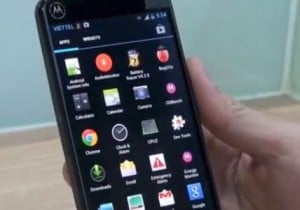 A precision drilled speaker grill sits on the rear next to the camera as well. The device appears to have a soft touch coating, but not the Kevlar material that's found on the Droid RAZR and the Droid RAZR HD series. The person on the video says that the device feels sturdy.
The device has a Qualcomm Snapdragon S4 Pro processor, 2 GB RAM, 2200 mAh battery, and a display  that's said to be a bit larger than 4 inches.
At this point, it's unknown if this device is an entirely new device that Motorola still has to announce or if it's a working design for the Droid RAZR HD.
This leaked and unannounced Motorola smartphone was shown on famed Vietnamese site Tinhte, which has built a name for itself on showcasing products ahead of their announcements. The video was also posted on Engadget. 

This article may contain affiliate links. Click here for more details.