How to Get Unlimited Money in The Witcher 3
It is tough to find Xbox One and PS4 Witcher 3 cheats, but you can still use an exploit to get unlimited money in The Witcher 3: Wild Hunt.
This Witcher 3 cheat for PS4 and Xbox one is not a code or a crack that you perform, but it is something that will disappear with an upcoming Witcher 3 patch.
If you do this right you can earn up to 6,000 crowns a minute. Repeat this Witcher 3 infinite coin trick to continue earning as much money in the game before an update closes the loophole.
Gamers who want to exploit this trick can unplug their console from the Internet and back up a save with all of the earned money to USB just to be safe. You don't need to be very far into The Witcher 3 to use this exploit for unlimited money, so you should set aside some time this weekend to get a lot of money in The Witcher using this exploit before it is closed.
Read: The Witcher 3 – 7 Things Buyers Need to Know
You may have heard of this Witcher 3 cheat referred to by seashells or pearls, which are what make up the combination that you can use to earn a lot of crowns fast in the game.
You'll need to go to Novigrad to make this happen. If you are in the very beginning of the game like we are, you can still do this once you reachVelen. From Velen you can take a boat or swim north to Novigrad. Go to Hierach Sqaure and visit the merchant there to start your journey to unlimited money in The Witcher 3.
Here's how this Witcher 3 cheat or exploit works on PS4 and Xbox One.
Buy as many shells and seashells as you can from the merchant.
Got to the nearby armorer and dismantle them into pearls.
Sell the pearls to the armorer for over 100 coins each if you are new.
If you come close to depleting the Armorer's supply of gold you can go to the loan shark and sell.
The merchant, armorer and loan shark appear during the day.
In the video above you can see how this Witcher 3 cheat can help you earn over 6,000 crown per minute on the PS4.
Read: The Witcher 3 Free DLC Details
Once again, you will need to do this before the next The Witcher 3 patch arrives and it would be wise to backup your save.
OnYouTube some users report that the money is disappearing from their accounts after several hours or a day. Ghosty Chives writes, "Had about 65k and just looked at my inventory and have 150, haven't spent it on anything and no patches were downloaded…wtf is going on."
Instead of using The Witcher 3 cheat to get over 100,000 crowns, you may need to stay below 30,000 crowns. Youtube usernavioner states, "If you earn too much in a short time span I think it corrects your crowns as some anti cheat thing. Keep it at 30k should be fine."
15 Exciting 2015 PS4 Games
MLB 15 The Show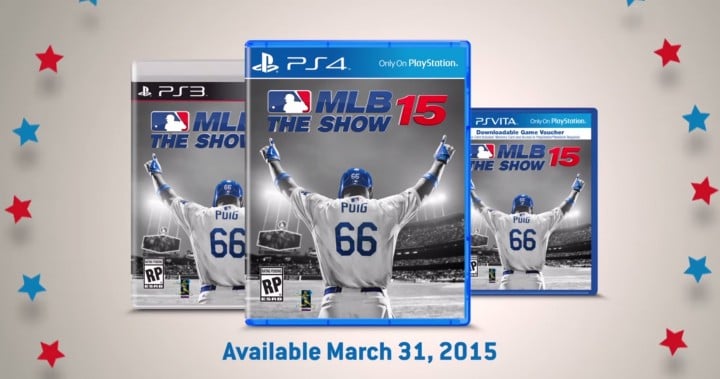 MLB 15 The Show Release Date - March 31st Confirmed
Sony is the undisputed king of baseball games with MLB The Show and we know that MLB 15 The Show is coming in early 2015. Sony just shared five key details about MLB 15 the Show and gamers are excited.
MLB 15 The Show is a PlayStation Exclusive, that is coming to the PS4, PS3 and PS Vita. There is a chance that this will be one of the first big hits among the 2015 PS4 game releases. I
Watch the MLB 15 The Show teaser video above for a glimpse at what's new.