Unlock your Chromebook with your Android phone Using Smart Lock
Did you know you can unlock your Chromebook using an Android phone? Smart Lock, the new feature recently added to both ChromeOS and Android, will unlock a Chromebook so long as both the phone and the Chromebook are close to one another and signed into the same account. We'll show users how to unlock their Chromebook with an Android phone using Smart Lock.
To use Smart Lock users will need the following:
An Android phone running Android 5.0 or later.
A Chromebook with ChromeOS version 4.0 or higher.
Both machines connected to the same Wi-Fi network with Bluetooth turned on
See How to Install Android Apps on Chromebook
Getting Things Ready for Smart Lock
Most Android 5.0 or higher phones have a slide down menu on the home screen that shows a button to turn on Bluetooth. If your's doesn't, then go into your settings and turn it on. Here's what it looks like on my Samsung Galaxy S7 Edge. Also, connect to the same local Wi-Fi network that the Chromebook connects to.
On the Chromebook open the Settings. Do this by clicking the area in the lower right corner of the screen where you see the time, battery indicator and probably your Google account avatar.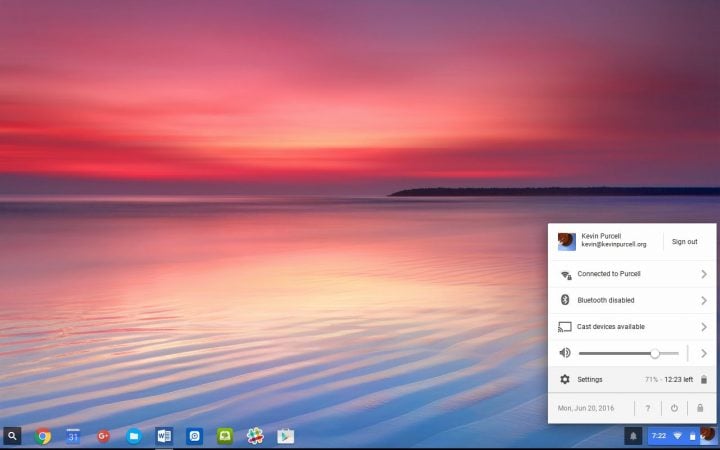 Click on Settings in the menu that pops up in the lower right corner. The ChromeOS settings screen opens up.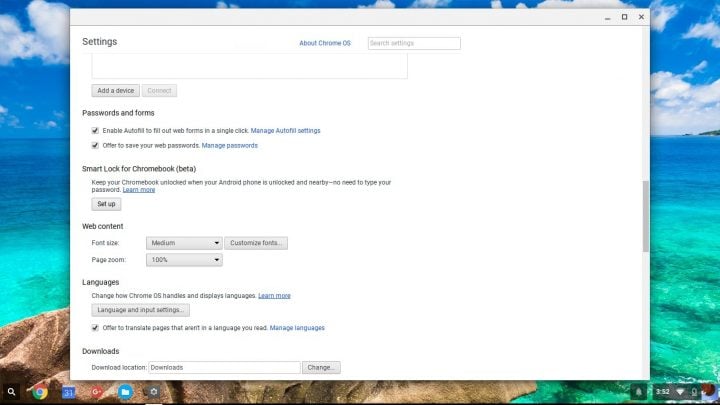 Scroll down till you see Show advanced settings. Click the link to show the advanced settings. Scroll down to find the Smart Lock for Chromebook (beta) setting (as seen above). Click on the Set Up button. The operating system will ask you to sign into your account again and then you'll see the following dialog box open up.
Unlock your Android phone and then click on Find your phone. The Chromebook will search for your unlocked Android phone and show the name of the phone above the blue button. The text on the button changes to Use this phone. Click it.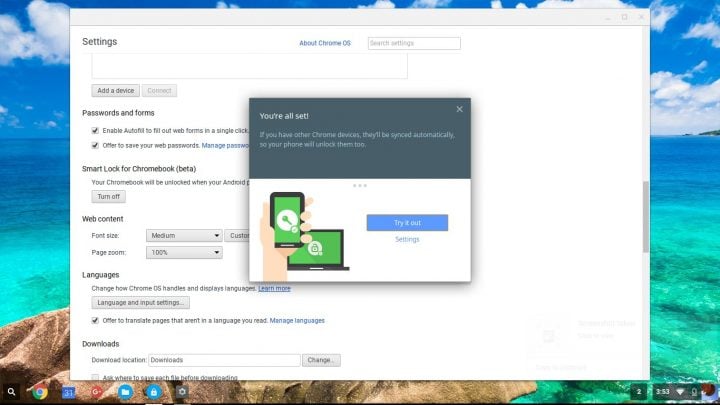 The dialog box changes as shown above. Click on Try it out to see if it's working properly. The login screen shows up and you'll see it searching for the phone. When it finds the phone it will ask you to click the picture. Click it and the phone will give you a notification and the Chromebook will log in.

You'll see the above notification on your phone anytime you unlock the Chromebook using your Android phone.
When you use Smart Lock, Google will store some information on the two devices. Here's what they store according to the help page at Google's site.
Smart Lock for Chromebook automatically turns on Bluetooth for your compatible devices during setup. Google stores Bluetooth MAC addresses for devices that have Smart Lock for Chromebook turned on. When you turn off Smart Lock for Chromebook, these are deleted.
See 5 Best Chromebooks Available for 2016 at Notebooks.com
How to Turn Off Smart Lock
What if you don't want to unlock your Chromebook with your Android phone? Turn off Smart Lock by going back into Settings. Click on Show advanced settings again. Scroll down to Smart Lock and click on the button reading Turn off. A dialog box pops up and asks you to turn it off. Click on the second Turn off button in this dialog box. It turns off and you will probably have to log back into your Chromebook.
If you ever need to lock your Chromebook, you can just close the lid or click on the Google account avatar in the lower right and then click on the lock icon.

As an Amazon Associate I earn from qualifying purchases.