USB to Micro USB & Mini USB Combo Cable
5 years 9 months 17 days ago, I posted an article on my old website asking manufacturers to a) use one universal connector for charging and b) label their own power supplies. I had a drawer of connectors and chargers that was overflowing. Things are better today but still not perfect. Things are MUCH better today. MicrosUSB seems to be the standard for most smartphones now. That might change tomorrow, but for now, I am quite happy.
If you are still charging multiple devices where one uses MicroUSB and the other MiniUSB, there's a cable out there for you. I plan on grabbing one for a camera and my smart phone to cut down on cables a bit.
The USBHAUBMB3 3-foot USB to Micro USB and Mini USB Combo Cable provides 1 USB 'A' Male connector, 1 Micro USB 'B' connector and 1 Mini USB 'B' connector, letting you connect mobile devices (e.g. BlackBerry and Android-based cellular phones, and other portable devices such as phones, GPS and digital cameras) that use a Micro or Mini USB connector to a USB-capable computer for charging, data synchronization and file transfers.

This 2-in-1 Multifunction USB to Mini/Micro USB cable (USB Combo Cable) is the perfect solution for connecting your Mini USB or Micro USB device while avoiding the hassle of swapping in and out between 2 separate cables.
If this cable is something you're in need of, you can grab one from Startech for $9.99. 
Here's my drawer from  5 years 9 months 17 days ago that I referred to in the opener. I would link the post, but I am concerned that my old site has been overrun with malware.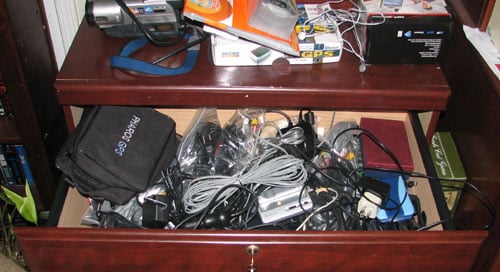 You see, the problem is that some of us gadget geeks like to keep stuff. I have 2 drawers full of old cases, devices, sync cables, power cords, etc! The problem exists when I need to dig something out, what the hell goes with what? In this photo below, you can see I started using plastic bags to store and label old cables, power supplies, and cradles. I go through so much junk that I have a hard time keeping up and have abandoned the fight.
The only thing I can recognize right when I look into the mess of wires is my Kjam power cord. I only recognize this because of the foreign adapter I had to use!
Those were the days! Do you see the Motorola Q box up there?