Beautiful Venus of Cupertino iPad Dock Highlights Technology and Sedentary Life
Greek goddess Aphrodite also known by the Romans as Venus had often embodied a more voluptuous figure that would make today's fashion magazines cringe at the curves. Notably framed by Bottecelli, the goddess is shown being born on a shell and the Venus de Milo highlights a partially draped body that's feminine but with curves. Now, notable London designer Scott Eaton has taken the Roman goddess of beauty to another level with pronounced curves in an artistic iPad tablet holder.
Eaton's concept is perhaps an excellent embodiment of Steve Jobs' ideal for Apple–the epicenter where technology and liberal arts meet. Here, high art and high tech are found in one place, and Eaton's work is elegant, simple, and beautiful. It would definitely make a great addition to your desk or home.
But whereas thin is in in fashion and with many Apple products, Eaton's sculpture is bulking the trend and taking a radically different approach. It's unclear what Eaton's vision is with the Venus of Cupertino, but perhaps it's both an elegant and human reminder to technology while at the same time mocking the technologist in us leading sedentary office lives. Is this what Bottecelli's Venus would look like if she was stuck in an engineering cubicle day in and day out designing products without much exercise? Perhaps, Venus staring at her reflection in the glass here is more akin to Narcissus, who fell in love with his reflection by the water's edge.
Whatever your interpretation is and Eaton's vision, the end product is beautiful and illustrates the human side behind technology and design.
Whatever the case is, the iPad docking station will be available this summer and will be shipping worldwide at an undisclosed price. In addition to gracefully holding your tablet, Venus herself will also be able to charge and sync your iPad. It is compatible with the original iPad, the iPad 2, and the new iPad.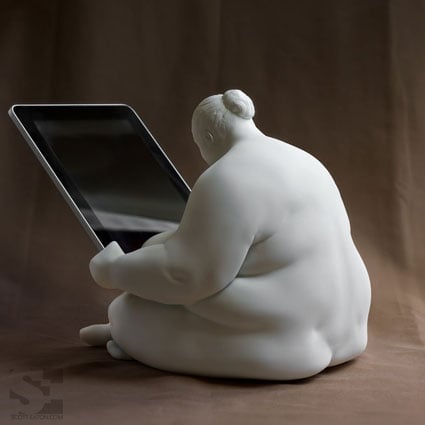 To learn more about the Venus of Cupertino, you can visit Eaton's site, where you can also sign up to be notified when the dock will be available.