Verizon Already Selling Galaxy Nexus Accessories
We're not sure if this is some kind of sick twisted joke that Verizon is playing on consumers or if it's just an honest mistake. Clearly, we hope it's the latter. You see, Phandroid has scooped a photo of what appears to be Galaxy Nexus accessories purchased at a Verizon store. There is even a receipt there as proof. Problem is, Verizon hasn't launched the Galaxy Nexus yet.
Oops.
Again, this just goes along with what we just talked about a short time ago. Verizon has once again managed to bungle a major Android launch. It's no wonder that this is their first Nexus rodeo.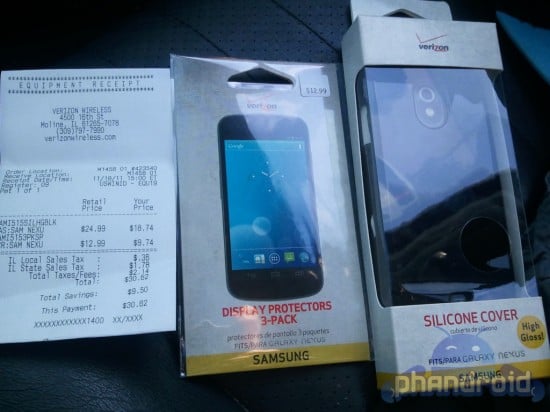 The items you see here were apparently bought at Verizon's Moline, Illinois location so if you live nearby, and you plan on getting a Galaxy Nexus, you can head on down to get yourself some accessories for a phone that hasn't even been given a release date yet.
The current rumor pegs the Galaxy Nexus release date as November 21st but at this point, we don't even think Verizon knows when this phone is coming out.

This article may contain affiliate links. Click here for more details.