Verizon Black Friday 2015 Deals
Earlier today we detailed some impressive Sprint Black Friday 2015 deals, but if those aren't for you, Verizon has some pretty excellent deals worth considering as well. Rather than head to Best Buy or Walmart, US smartphone carriers are getting in on the action like never before.
Black Friday is always one of the craziest times of the year. A day which millions of shoppers wait for all year long, then make huge expensive purchases on electronics, smartphones, accessories, speakers, headphones and more. All of that and more will be available this year for Verizon's Black Friday 2015 deals.
Read: Best Buy Black Friday Deals Live Now for Some
This year for the Verizon Black Friday event shoppers can get huge savings on smartphones like the Galaxy S6, Galaxy Note 5, LG V10, and money back on the DROID Turbo 2 and much more. Read on for all the details and deals, which will only be available for a limited time.
This afternoon Verizon posted a Black Friday PDF detailing all the impressive deals that will be available in-stores, online, and more. However, most of them are for those upgrading to a better plan or adding a line, switching carriers, or trading in that old Galaxy S4 for a new Samsung Galaxy S6 Edge or Galaxy Note 5.
The biggest Verizon Black Friday deal appears to be a $500 credit for those switching carriers and trading in a phone. Similar to other trade-in deals, only much better for this weekend only.
On Black Friday those willing to switch to Verizon will get $300 for trading in select phones from other carriers, and $200 off select Verizon smartphones. As a result, users will end up paying extremely low prices like $3 a month for the Galaxy S6, $7 for the Galaxy S6 Edge, or $12.33 a month for the Galaxy Note 5, as it's only $100 off, rather than $200 off.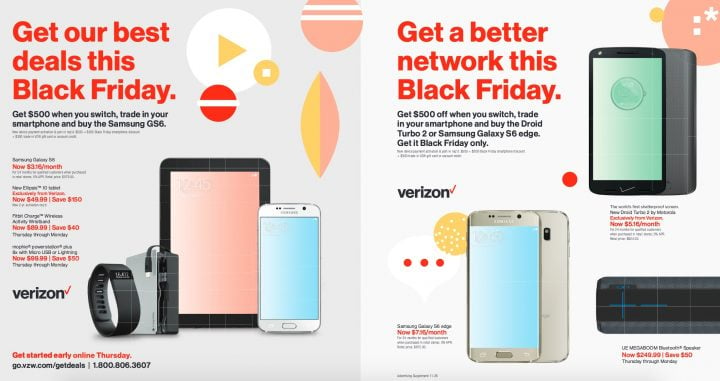 Verizon is offering its own branded Ellipsis 10-inch tablet for $149 off, making it only $49.99 with a new 2-year contract, the FitBit Charge for only $89, and Mophie charging power stations for $50 off, being only $99.
Accessories, speakers and toys are all seeing huge discounts as well. Discounts like the UE Megaboom Bluetooth speaker for $249 (regularly $300), the Parrot AR Drone for $50 off, Beats Solo headphones for $50 off, and many other accessories ranging from $30 to $50 off regular prices. Here is the slide, and more details can be found at the link above.
All of Verizon's Black Friday 2015 deals are available from the 26th, until Monday. Current and new Verizon customers can head to go.vzw.com/getdeals starting Thursday, or head into a nearby Verizon retail store to get in on the savings.
This means that Verizon will be offering most of these deals over the phone and online, as well as in stores for those who'd rather not wait in long lines.
We're not seeing anything amazing here, like the free 24-inch LG HDTV on Sprint or Amazon Prime free for a year, but Verizon does have a few good options for those who'd like to switch from an old carrier to something new. As a reminder, more details and deals can all be found at our Black Friday 2015 Portal.