Verizon Discounting Full Retail Prices of Android Smartphones
For the commitment-phobe smartphone buyer who's reluctant to sign a two-year service agreement, Verizon Wireless is now discounting the full contract-free retail price of some of its most popular smartphones. The carrier is saying that the discounts may be temporary as it adjusts "pricing from time to time to address current market dynamics and to stay competitive."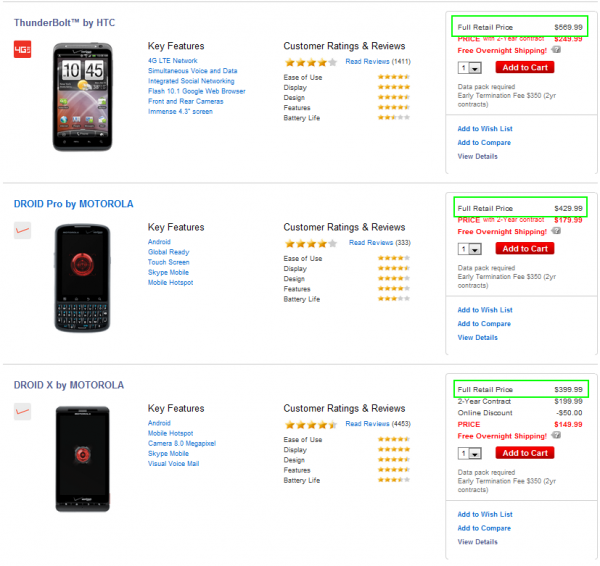 As part of the discounted lineup, the full retail price for the newly launched HTC Thunderbolt, a 4G LTE Android smartphone with a 4.3-inch WVGA display, will now go for $569, down from $599.
The Droid X is now going for $399 while the Droid Pro will be retailing for $429.
Though it was speculated earlier that the discounted pricing may be associated with Verizon ending its policy for 1-year contracts. In the past, Verizon offered 2-year contracts with the most amount of subsidies resulting in a heavily discounted phone price as well as a 1-year contract with less subsidies, but still more affordable than the cost of the phone at full retail sans contract. Early termination fees, however, were the same regardless of contract length, and Verizon says that it is now streamlining its offerings by dropping the 1-year contract offering.
The move to discount some of these popular smartphones may be to help move inventory prior to the introduction of additional smartphone models. Including 4G LTE smartphones from LG, Motorola, and Samsung that were introduced at CES, Verizon is also expected to carry the HTC Incredible 2, the Motorola Droid X 2, as well as the Motorola Droid 3.
Via: Droid-Life