Verizon Droid RAZR MAXX to launch on January 26?
Verizon and Motorola announced the Droid RAZR MAXX at CES last week with no release date or pricing. Not getting that data was no surprise and sometimes phones announced at CES don't get released for quite some time. I don't know if anyone remembers the original, Windows Mobile powered Xperia. It wasn't released until it was too late really. The same for the some of the HP iPaq smart phones over the years. Well, the Droid RAZR MAXX received that data far earlier than expected due to a snafu on the Motorola landing page for the phone.
The landing page has been updated to show "Available Soon" instead of "Available 1/26" as it was spotted by Droid Life previously.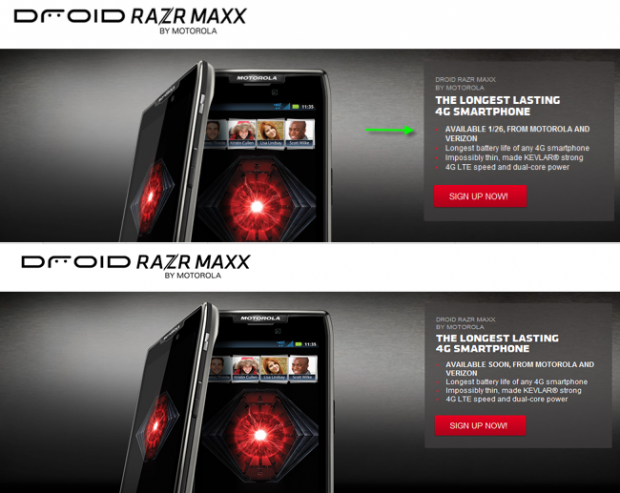 According to Droid Life, the contract price for the Droid RAZR MAXX will be $299. I am not 100% sure where that data came from, but it seems about right.
Adam Mills got some hands-on time with the phone and had this to say:
What's impressive is that the Droid MAXX is able to house a battery that large but also keep an extremely slim form factor. The original Droid RAZR is 7.1mm at its thinnest point while the Droid MAXX makes the jump up to 8.9mm.

We held both in our hands and to be perfectly honest, it's not that big of a deal, especially when you take in the fact that this is a 4G LTE smartphone which often don't have the best battery life.

For now, we think it's a worthy trade-off.
I got some time with the RAZR MAXX as well and I have to agree. The thickness of the MAXX isn't that big of a deal when you consider how much juice you are getting with it. Other than the size, there didn't seem to be any real difference between the original and the MAXX.
Make sure to check out Adam's hands-on video!

As an Amazon Associate I earn from qualifying purchases.