Verizon Early Termination Fee Increases for New Customers
For those looking to switch carriers and join Verizon as a new subscriber, you may want to be aware of the carrier's new policies on its early termination fees, which have increased for new customers.
With the new early termination fees, if you sign a new two-year contract with Verizon and decide to back out and go with another carrier toward the former half of the two-year deal, you'll might be paying more money than in the past, as the new terms are set so that early termination fees actually don't see any reduction until at least eight months into your contract.
As of November 14, customers who signed up for a new contract with Verizon will be placed under these new terms, meaning that your early termination fee would be $350 whether you cancelled your contract a month into it or eight months into it. It's not until the eighth month when you'll finally see your early termination fee slowly drop by $10 per month from month 8 to month 18. From months 19-23, it will drop by $20 per month and $60 in the final month of your contract.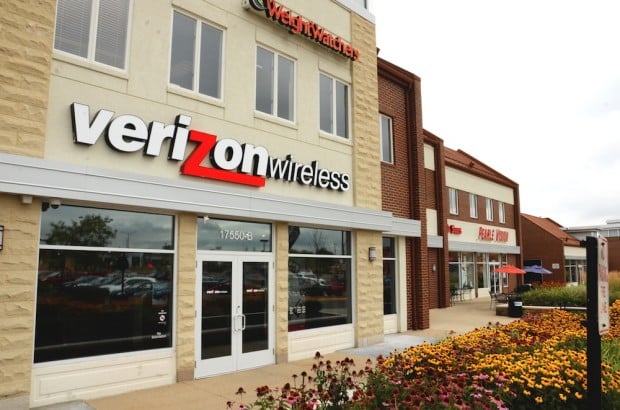 Under the old contract agreement, your early termination fee would start at $350 and would be reduced by $10 for each month you've completed in your contract with Verizon.
While this technically isn't an "increase" in the early termination fee, Verizon changed it so that you'll be paying more to back out if you ever wanted to cancel your two-year contract.
While this might just be another method for Verizon to make more money and to keep more customers on contracts, it may backfire on them slightly, especially since T-Mobile will gladly pay for your early termination fee if you switch over to the no-contract carrier.
T-Mobile has been attempting to shake things up in the mobile market lately, introducing no-frills service plans and enticing deals to get people to switch from a competing carrier. Its biggest thing is offering no contracts on any of its plans, meaning that customers will have to pony up the full cost of a smartphone, but they won't be tied into a contract and the monthly bill will be cheaper than a typical on-contract plan.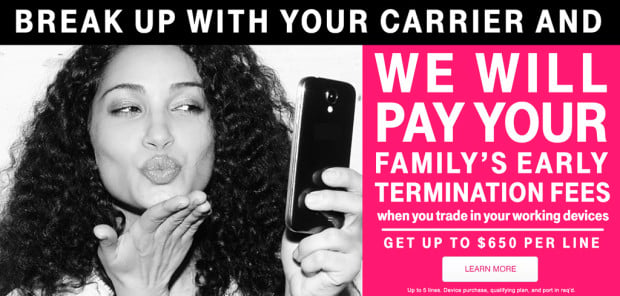 Towards the beginning of the year, T-Mobile announced that it would give customers up to $650 to switch from a competing carrier, with some of that money even going towards paying for the early termination fees that you'll inevitably receive. That's quite a deal, and could entice Verizon customers to jump ship, even if their early termination fees are slightly higher than before.
However, you can't beat Verizon's excellent LTE coverage, and the only thing really holding T-Mobile back is its own LTE coverage, which is continuously improving, but it has a lot to do before it can catch up to Verizon in any way.
Verizon has LTE plastered pretty much everywhere, and the carrier even has super-fast LTE in the middle of nowhere in Pennsylvania, which is quite impressive. Comparatively, T-Mobile's LTE coverage is rather spotty, and while it has ample LTE coverage in most of the major cities, it still needs to catch up in other areas of the US.
However, T-Mobile will eventually catch up, and when that happens, Verizon and AT&T might actually have some strong competition biting on their tails.

As an Amazon Associate I earn from qualifying purchases.