Verizon Galaxy Nexus to Launch as Nexus Prime?
Just when we thought the Verizon Galaxy Nexus saga couldn't get any more confusing, Best Buy has decided to throw in its two cents with a December catalog, leaked of course, that calls the Verizon version, very clearly, the Samsung Nexus Prime. It's sitting there right next to the HTC Rezound with a $299 price tag that requires the signing of a new two year contract.
While Phandroid seems to think that it will be called the Nexus Prime, we think that it's possible that this ad could have been printed in advance when the device was still known as the Nexus Prime.
Still, it's very possible that Verizon might use its own name to differentiate between it and the other Galaxy Nexus devices.
It would just be very odd to have that happen this late in the game, especially when Verizon already announced that it would be carrying the highly anticipated smartphone later in the year.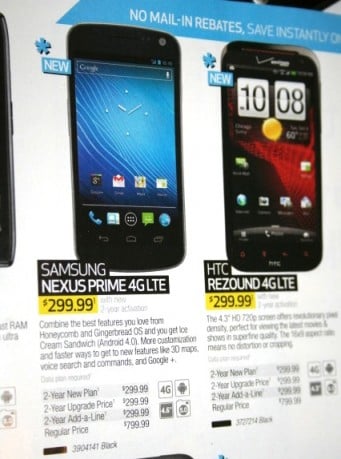 Nexus Prime or not, let's hope Verizon announces something soon.