Verizon Galaxy Note 2 Release Date Likely Coming in November
Earlier today, the Verizon Galaxy Note 2, as we told you, went up for pre-order ahead of its eventual release date. Unfortunately, Verizon did not give a specific Galaxy Note 2 release date only saying that the device would ship by November 27th and this point, that's as good as it's going to get for those looking to get the 5.5-inch phablet.
Verizon Galaxy Note 2 pre-orders have begun. The device is available on the carrier's website and it, again as expected, costs $299.99 on-contract for a 16GB variant of the Galaxy Note 2.
Yesterday, we told you that pre-orders would start today but we also told you that it may not start shipping until November 29th. Turns out, that's partially true. The Verizon Galaxy Note 2 will indeed be shipping in November but apparently, it will ship by November 27th, not November 29th. That doesn't mean the release date is November 27th, but it means that will likely come around then.
Read: Samsung Galaxy Note 2 vs. Samsung Galaxy S III.
That means that those who pre-order now, may not see their device arrive for over a month.
This is vastly different than the other Galaxy Note 2 release dates. T-Mobile already released its Galaxy Note 2. Sprint will be releasing its Galaxy Note 2 today. U.S. Cellular will release its Galaxy Note 2 tomorrow. And finally, AT&T Galaxy Note 2 pre-orders have begun ahead of a release date that is set for November 9th.
The fact that the Verizon Galaxy Note 2 potential release date is so far away is going to peeve some owners, just like the branded home button that will come with the device when it arrives. However, that's not going to stop many people from ordering the device for Verizon's expansive and fast 4G LTE network.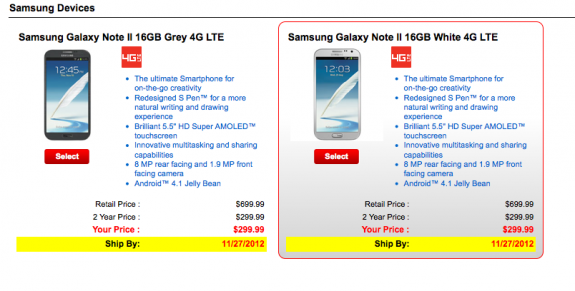 Demand for a Verizon Galaxy Note has been around ever since AT&T got the original Galaxy Note and demand likely won't waver even when customers are faced with these annoyances.
Keep in mind, Verizon says it will ship by November 27th. That could mean that it will ship much earlier than that, but only time will tell if that's the case.
Read: 8 Ways the Samsung Galaxy Note 2 Beats the iPhone 5.
The Samsung Galaxy Note 2 is the latest phablet device from Samsung and it features a 5.5-inch HD display, quad-core processor, 4G LTE data speeds, S-Pen stylus, and Android 4.1 Jelly Bean.

As an Amazon Associate I earn from qualifying purchases.