Verizon Galaxy Note 2 Release Date Looks Good for November 29th
Yesterday, we told you that the Verizon Galaxy Note 2 would be going up for pre-order today, which it then did. However, we also told you that the release date for the Verizon Galaxy Note 2 might be November 29th. At the time, it seemed outlandish. But it looks like that date has been all but confirmed today by an internal Verizon screenshot.
Droid-Life unearthed a piece of evidence that backs up our report from yesterday. It seems, rather sadly, that the Verizon Galaxy Note 2 won't be available until the end of November and specifically on November 29th.
That date comes two days after the November 27th ship by date for the Galaxy Note 2 on Verizon's website and that means it looks good for the in-store Galaxy Note 2 release date on Verizon.
Read: Samsung Galaxy Note 2: AT&T to Verizon – Which U.S. Carrier is Best?
Obviously, this is not what prospective Verizon Galaxy Note 2 wanted to hear as it will come several weeks after the launch of the AT&T model, which arrives on November 9th, and more than a month after Sprint, T-Mobile and U.S. Cellular release their versions of the Galaxy Note 2.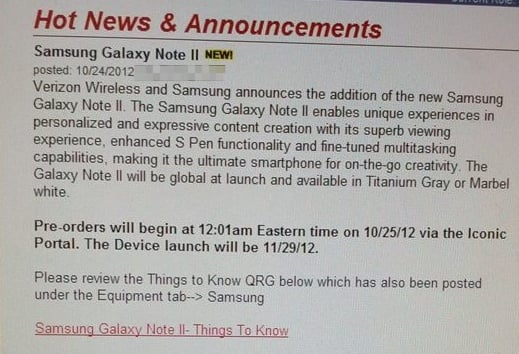 This is just another headache in a series of them for Verizon customers looking to get the Galaxy Note 2 on Verizon's 4G LTE network. First, the carrier decided to wait until the last possible day to announce anything and then, when it did, it didn't offer a release date. Then, yesterday, the device was confirmed to have an annoying Verizon logo on the home button of the device, something that no other carrier decided to put on their devices.
And now, it seems the device won't launch for more than a month.
Read: 8 Ways the Samsung Galaxy Note 2 Beats the iPhone 5.
Luckily, it will be out before the end of the holiday season which means that those who are looking to pick up this 5.5-inch phablet as a gift will still be able to do so, presuming it doesn't sell out over the course of the next month.
Verizon placed the device up for pre-order today with a price of $299.99. That nets customers a 16GB Galaxy Note 2, a device that offers a massive display, S-Pen stylus, Android 4.1 Jelly Bean, quad-core processor and of course, 4G LTE data speeds.

As an Amazon Associate I earn from qualifying purchases.