Verizon Galaxy S III Shipping Date Slips
Verizon's Samsung Galaxy S III shipping date has slipped a day and it appears that the device is now shipping out on July 10th.
The carrier's online store reflects the change although it's unclear if this change in shipping date affects all customers or just those who are pre-ordering it from here on out. We assume the latter although Verizon hasn't made it's launch plans very clear.
Orders placed earlier this week had a shipping date of July 9th. It's possible that supply is slow due to the massive amount of pre-orders but again, Verizon has remained silent about the change.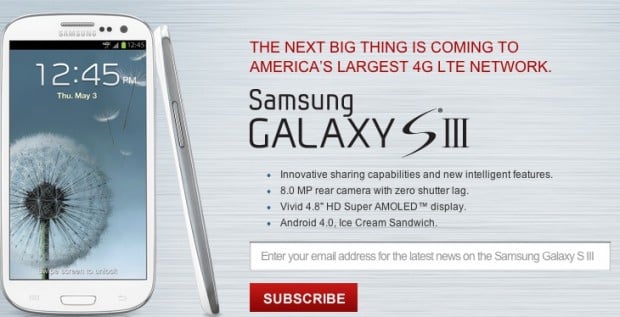 Earlier this month, the carrier confirmed to us that the device would be shipping out on July 9th. We also heard from pre-orderers who said that the carrier told them it would be shipping out "by" July 9th.
Several other dates have been thrown out there as possible release dates, including June 28th, which is the date that Verizon plans to launch its Shared Everything data plans.
It's possible that the phone does have two different release dates, one for online and one for in-stores but Verizon has not said anything just yet.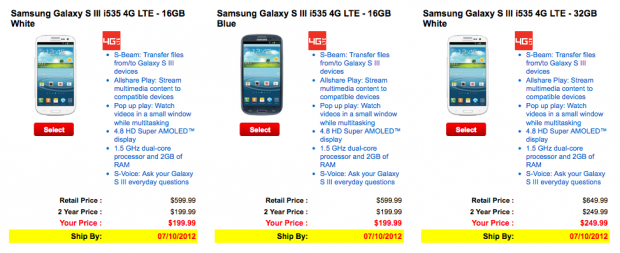 So, what we have here is a mystery that Verizon hopefully clears up soon. Other carriers like Sprint and T-Mobile have announced June 21st as an official release date for the Galaxy S III while AT&T is expected to start shipping the device in just a few days.
It would be wise of Verizon to let consumers and its pre-orderers know for sure, when the device will be coming out. Again, we think July 9th is the release date but we remain cautious.
We'll let you know when we hear something more from the carrier in regards to the Galaxy S III's official release date.
Verizon's Galaxy S III features a massive 4.8-inch display, a speedy 1.5GHz dual-core processor, an 8MP rear camera capable of shooting 1080p video, a 1.9MP front-facing camera for video chat and Android 4.0 Ice Cream Sandwich with TouchWiz out of the box.