Verizon Galaxy Tab 7.7 Ice Cream Sandwich Update Roll Out Imminent
Verizon has finally approved the Android 4.0 Ice Cream Sandwich update for the Verizon Galaxy Tab 7.7 which means that the update should be rolling out to users of the tablet device sometime in the near future, possibly in a few days.
The carrier posted the update to its website which is usually the first step before a roll out. The changelog is essentially a run down of all of the features coming in Android 4.0 Ice Cream Sandwich, an update that will take the tablet up from Android 3.0 Honeycomb, but we imagine that the software will be arriving with bug fixes as well.
The main piece of the update though is Android 4.0 Ice Cream Sandwich which stands to make the Galaxy Tab 7.7 a much smoother, much better device.
Android 4.0 Ice Cream will bring the new user interface to the table, a new Gallery application, pinch to zoom functionality, an improved music application, Face Unlock and more. It's a sizable update and one that users will want to download almost immediately at it improves on Honeycomb in just about every way.
Verizon has not yet said when the update will start rolling out to users though we imagine that it will be doing so in the next couple of days. Verizon's roll outs usually start slow as it determines whether the update is suitable for a widespread roll out and a few days after the initial roll out, it hits everyone's device.
We assume the same thing will happen with the Galaxy Tab 7.7.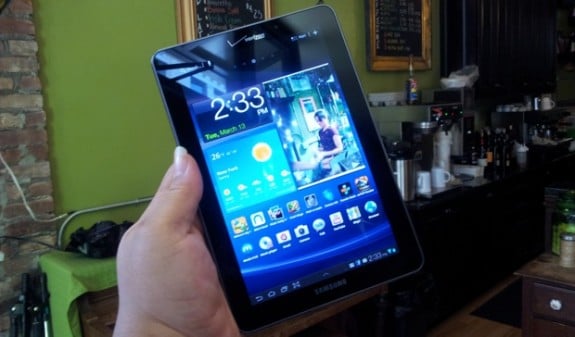 Once the update does arrive, the installation process could take awhile. The update is 283MB in size which means that the download and installation process won't happen with the snap of a finger. Those installing the free update will want to set aside some time for the update to complete when it does arrive for the tablet.
It has been an extremely long wait for Verizon Galaxy Tab 7.7 owners and now it appears that the wait will soon be over.
Cheers to everyone who sent this in!