Verizon HTC One Max Now Available for $299
After announcing the large 5.9-inch HTC One Max late last month many were wondering when it would arrive stateside so we could try the fingerprint scanner on back, and starting today customers have the choice from Verizon Wireless.
Originally launching first on Sprint, for much less being just $149, today Verizon Wireless has officially launched the One Max on its network, but it will run you $299. It's a big difference, but is comparable in price to the popular 5.7-inch Galaxy Note 3 currently available. After seeing reports all week that it was coming soon, this afternoon Verizon finally made it official.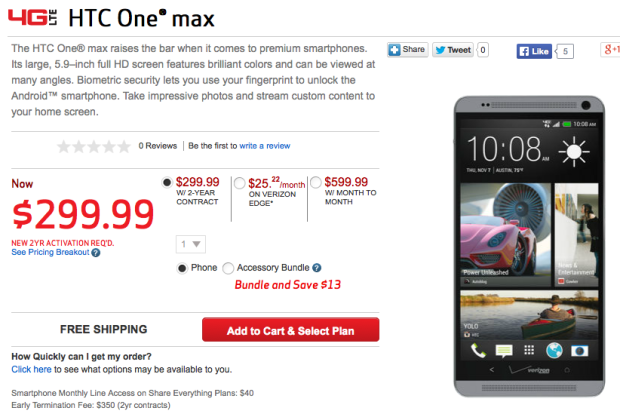 Yesterday we reported on dummy units of the new flagship smartphone arriving in stores, and were expecting an announcement to quickly follow, but this afternoon Verizon silently launched the new device. Complete with a 5.9-inch 1080p HD display, Qualcomm Snapdragon 600 quad-core processor with 2GB of RAM, and 32GB of internal storage the phone is quite stacked.
Users will enjoy the same 4 Ultrapixel camera from the HTC One, front facing speakers, but they'll also gain a fingerprint scanner on the rear. HTC has custom features and shortcuts tailored around the new fingerprint sensor, and will allow users to launch custom app shortcuts with each finger on their hand. It may not be as powerful as the Galaxy Note 3, but there's plenty of features users can enjoy.
Read: 7 HTC One Max Features You'll Want to Use
The HTC One Max on Verizon will run users $299 with a new 2-year contract, which certainly isn't cheap, or the Verizon Edge program is also available. Offering the phone for just $25 per month, or $599 outright for those who'd rather not get tied into a contract.
Read: Galaxy Note 3 vs HTC One Max: 10 Key Differences
With Android 4.3 Jelly Bean and a promise to Android 4.4 KitKat early next year, the HTC One Max has some of the latest technology and software, and is covered in the company's Sense UI 5.5 interface.  A large 3,300 mAh battery is included which should keep it charged up for all-day use, but we'll have to wait until we get one in for a full GottaBeMobile review for any final thoughts. Get it now online or in stores from Verizon.

This article may contain affiliate links. Click here for more details.