Verizon iPhone 5's Lack of Simultaneous Voice & Data a Deal Breaker
The Verizon variant of Apple's iPhone 5 won't support simultaneous voice calling and data transmission.  While some users don't care about this limitation, this is a deal breaker for others, including myself.
The people who should be most concerned about this limitation are those that actually talk a lot to others. Verizon customers on the 450-minute individual plan probably don't have much to worry about. But Verizon's pushing customers towards its Share Everything plans, which feature unlimited talk and access to the iPhone 5's mobile hotspot feature at no additional charge.
Verizon's other 4G LTE phones already support simultaneous voice and data. Many expected the iPhone 5 to have the same functionality, but Verizon killed all hope for the feature by stating:
"The iPhone 5 was designed to allow customers to place a voice call on the Verizon Wireless network, while letting customers access the Internet over the WiFi."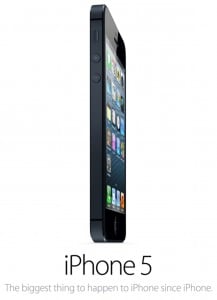 Relying on Wi-Fi to access the Internet on calls may be ok while you're at home or at work, but this isn't a good solution for mobile professionals and many others.
The limitation means users are going to be able to do more with their iPhones than ever before thanks to the supercharged data speeds. But they won't be able to quickly look up information on the Web and in apps while talking to others. They won't be able to use the iPhone 5's mobile hotspot function to get your laptop online while on a conference call. Verizon customers won't be able to talk on the iPhone 5 while getting directions or navigating with the iPhone 5.
Verizon is missing out on a golden opportunity here since this is the first time many AT&T customers will have the chance to switch carriers without paying any more than sticking with what used to be the sole iPhone carrier. AT&T isn't being so generous with early upgrade discounts, which means it's actually cheaper for many iPhone 4S owners to pay an earlier termination fee and buy a fully subsidized iPhone 5 from Verizon. Unfortunately for Verizon, many AT&T customers are accustomed to simultaneous voice and data.

The iPhone 5 is now available for pre-order from Apple, AT&T, Sprint and Verizon. The carriers are still promising September 21 deliveries for those who pre-order now, but Apple appears to have sold out of its first batch of iPhone 5s. Apple is now offering the iPhone 5 with a two-week delivery estimate.

As an Amazon Associate I earn from qualifying purchases.