Verizon Joining AT&T in Thwarting Illegal Tethering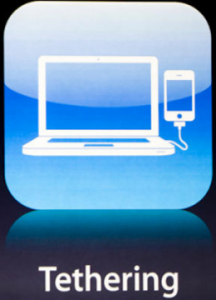 After AT&T had announced that it would be sending out notices to iPhone owners and taking action against those who are now illegally tethering without an approved plan–in the interest of fairness, as the carrier claims–it appears that long-time rival carrier Verizon Wireless will also be doing the same and joining AT&T on its quest to stop illegal tethering.
Both carriers offer a tethering add-on plan option for users who need to share the mobile broadband data connection on their Android or iOS smartphone over WiFi, Bluetooth, and/or a USB connection at this time for an added monthly premium. Users who are trying to circumvent the data policies by utilizing a jailbreak app on an iPhone or a rooting their Android device to utilize a non-approved app that would exploit their smartphone's native tethering capabilities without having to subscribe to the optional plan are now being asked–or forced–into a tethering plan. AT&T says that users who continue to violate the data policy will automatically be switched to the appropriate plan if they continue their behavior.
In Verizon's case, however, it seems that those who are using illegal tethering apps to tether are now being re-directed to a webpage when they try to connect to the Internet telling them that they need to be on the appropriate data tethering plan for $20 per month more. The change was noticed by some Verizon customers just a day after AT&T had announced its policy against tethering and taking a more hardline approach to the practice.
In the past, Verizon Wireless has been pro-active against tethering without the appropriate data plan. The carrier had removed apps that would enable the feature without the appropriate data package from Android Market in the attempt of steering users into subscribing to a tethering add-on.
Via: Electronista